Auto One Car Insurance Review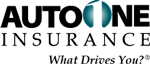 The Auto One Car Insurance review shows that Auto One Insurance is located in Melville, New York and has a claims facility in Melville and Syracuse. Auto One Insurance specializes in assigned risk car insurance.
Use our free online tool today to compare car insurance rates where you live. Enter your zip code now to begin!
Auto One Insurance has the ability to write insurance in more that 20 states. The states where Auto One Insurance can write insurance policies are: California, Colorado, Arizona, Delaware, Connecticut, Montana, New Mexico, Idaho, Maine, New York, New Jersey, Oregon, Nevada, Texas, South Carolina, Pennsylvania, Washington, Vermont, Utah, Wyoming, West Virginia, Washington, DC.
An assigned risk car insurance policy is a special type of car insurance policy that is for people who are unable to purchase normal car insurance due to poor driving records or conviction, but who still have to have a car insurance policy due to state law.
One of the reasons a person might be denied a normal insurance policy is because they are considered a high-risk driver. A high-risk driver is a person with a questionable driving history or a person who has defaulted on an insurance policy in the past. Some of the contributing factors that determine a person's driving history are how many accidents or moving violations a person has on their record.
Compare the car insurance rates of Auto One Insurance to other car insurance providers in your area. Enter your zip code now!