Understanding Full Car Insurance Coverage
Full coverage car insurance rates can vary between $70 to $170 per month depending on where you live. Understand that full car insurance coverage typically includes liability and collision coverage, but it's important to understand full car insurance coverage before you buy so that you don't end up paying for a policy you don't need. Scroll down to learn more and compare quotes for full auto insurance coverage from local companies for free.
Compare Car Insurance Companies
Secured with SHA-256 Encryption
UPDATED: Oct 18, 2020
It's all about you. We want to help you make the right car insurance coverage choices.
Advertiser Disclosure: We strive to help you make confident car insurance decisions. Comparison shopping should be easy. We are not affiliated with any one car insurance company and cannot guarantee quotes from any single company.
Our car insurance industry partnerships don't influence our content. Our opinions are our own. To compare quotes from many different car insurance companies please enter your ZIP code on this page to use the free quote tool. The more quotes you compare, the more chances to save.
Editorial Guidelines: We are a free online resource for anyone interested in learning more about auto insurance. Our goal is to be an objective, third-party resource for everything auto insurance related. We update our site regularly, and all content is reviewed by auto insurance experts.
Key takeaways...
Many types of auto insurance could fall under full coverage which can protect you in all sorts of scenarios
There is no guarantee though that full coverage will protect you in every situation
Take into account the factors that come into play for the auto insurance rates and how full coverage is the most expensive type of auto insurance
Ultimately, there are ways you can cut down on the costs if you believe full auto insurance coverage is the right choice for you
The average cost of full coverage car insurance varies between $850 and $2,000 a year, which is quite a range. Estimating an actual average is hard.
There are so many things that go into figuring out car insurance rates, including where you live. Car insurance rates will also vary a lot among drivers of the same age, as each individual is rated differently.
When you get car insurance, you will need to decide what types of coverage to get.
Many drivers think that full coverage will protect you under any circumstance, which is not necessarily true.
Also, full coverage is not always recommended for every driver. Because it is the most expensive coverage to carry, speak with an agent about what coverage would be best for you before making a decision.
If you need better and more affordable auto insurance, enter your ZIP code above and compare at least three to four policies today!
Full Coverage Features
https://www.youtube.com/watch?v=VwxFS9UQb5I
There are two general categories for car insurance: basic and full coverage. You can also choose coverage that falls in between the two extremes.
Basic covers the specific requirements that have been laid out by each state. Liability coverage is the only coverage required in many of the states, although some also require drivers to carry additional coverage such as medical or uninsured motorist.
Although basic is the cheapest coverage available, it also covers the least.
Liability coverage on your policy only pays in instances in which you caused the accident and only covers damages, both physical and bodily injury, to the other party. Many drivers choose to carry full coverage to pay for additional damage.
Full coverage will help pay for damage to your whole vehicle, even if it was your fault.
Collision pays for damage that results from hitting something, while comprehensive pays for damage caused by almost everything else.
Each has a deductible associated with it, which you need to meet before the insurance kicks in. The insurance company will then only pay up to the value of your car.
Full coverage also includes coverage for motorists who have no insurance or don't have enough to cover all damages.
Uninsured motorists make up around 14 percent of the drivers on the road, according to the Insurance Research Council, so it is worth purchasing this extra coverage.
Payment for medical costs is also part of full coverage. Although liability pays for the other party's injuries, medical payment coverage or personal injury protection will help pay for injuries that you sustain or for passengers in your car.
Compare quotes from the top car insurance companies and save
Secured with SHA-256 Encryption
Times When Full Coverage Is Recommended
Full coverage on their vehicles is not something that every driver necessarily needs to get. There are times, however, when it is recommended or even required.
If you are driving a new car that is leased or you have financed it, you are probably required to carry full coverage, or at least comprehensive and collision.
Because the car officially belongs to the bank until it is paid off, the lender is protecting its asset by laying out its requirements. Once the car is paid off, it is your choice if you would like to continue with this coverage or not.
Even if you own the car outright but it is a new car, it is recommended that you carry full coverage to protect yourself financially.
New cars cost more to repair, and it is especially costly if it was to be stolen or totaled and you needed to replace it. Full coverage would prevent you from spending a lot more of your own money.
The more you drive your car, then full coverage is recommended.
When you spend more time on the road, there are more chances of getting into an accident. Being more fully covered would be an excellent preventive measure.
Full coverage is also recommended for families with teen drivers.
Drivers who are under the age of 20 have the worst driving record, by far, compared to any other age group. The National Highway Traffic Safety Administration reports that they get into three times as many wrecks as other drivers do.
If you are carrying full coverage on the vehicle they were driving, you will be much better protected financially. Knowing that you have coverage to help pay for the expenses that result from teen accidents will give you a certain peace of mind.
Compare Car Insurance Companies
Compare quotes from the top car insurance companies and save
Secured with SHA-256 Encryption
When Full Insurance Coverage Is Not Recommended
The biggest reason why a driver may not need full coverage is usually related to the value of their vehicle.
Because insurance companies will only pay for damages up to the fair market value of a vehicle, older cars that don't cost a lot may not benefit from carrying collision or comprehensive insurance.
Take into account your deductible amount for each type of coverage. Compare that to the estimated value that you can obtain from Kelley Blue Book.
If the value of the vehicle is close to your deductible, drop that coverage from your policy because you are wasting money paying for it. Because comprehensive and collision are two of the most expensive coverage types, you will be able to save quite a bit of money.
Factors in Car Insurance Costs
So many things go into figuring out car insurance rates that it is difficult to estimate what the actual cost of your insurance will be. That is why it varies so much from driver to driver.
When you start to get a quote for car insurance, one of the first things that you will be asked is the zipcode of where you live. Car insurance can vary quite a bit from state to state, as well as in different areas of a particular state.
The kind of car you drive, the age of it, and what type of features it has will affect how much you will pay.
Fancy luxury cars cost more for insurance because they are more expensive to fix and replace. Sports cars tend to get into more accidents and speed more, so they are more pricey to insure as well.
You may think that an older, common vehicle would be the cheapest to insure, which is not necessarily the case.
Some of these vehicles are the most commonly stolen ones, which increases their insurance premium. The National Insurance Crime Bureau lists the top ten stolen vehicles.
Your driving history is one of the biggest determinants of insurance rates. If you have received multiple tickets or have been the cause of multiple accidents, you will be seen as a higher risk to insure to insurance providers and can cause your rates to increase.
Some things are in your control to change, while others are not. The following things will also affect your rates, no matter what:
Your marital status
Highest school level
Gender
Credit history
Compare quotes from the top car insurance companies and save
Secured with SHA-256 Encryption
Average Insurance Rates Per State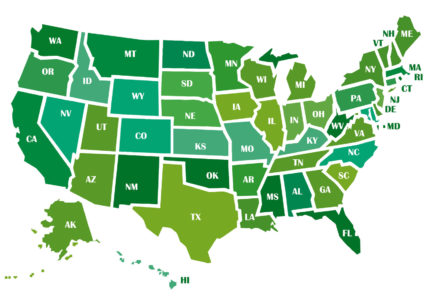 The average cost of car insurance can vary quite a bit depending on which state you live in. Insurance rules and regulations are dictated by each state individually.
If you move from one state to another and keep your same insurance company, you will probably notice a premium change, either up or down.
One of the states that ranks highest in car insurance rates is New Jersey, where average annual premiums are around $2,500 per year.
The District of Columbia and New York fall closely behind. Other states in the top ten include:
Rhode Island
Delaware
Maryland
Louisiana
Connecticut
Michigan
Alaska
States that offer cheaper car insurance include:
Vermont
South Carolina
Maine
Wisconsin
Tennessee
Factors such as the percentage of motorists, weather, traffic volume, and opportunities for litigation affect the difference in rates.
How to Keep Car Insurance Rates Low
Even if you decide it's in your best interest to carry full coverage on your car, there are ways to keep costs on the lower end of the average.
If you are a female driver between the age of 40 and 55, drive a mid-sized sedan that ranks high safety-wise, and are accident-free, you will pay some of the lowest car insurance rates.
Driving accident-free and following the rules of the road is one of the best things you can do to enjoy low rates. Check to see if your insurance provider offers any discount for you if you take a class related to driving safely or defensive driving.
Ask about any other discounts that your company has available.
Combining insurance policies and insuring all household vehicles under one policy is one way to save money. If you have a teenage driver on your policy and they get good grades, it will normally save you some money as well.
Because your credit history is part of the rate-determining process, working to improve your credit score will help over time.
Check out the website for myFICO to get ideas as to how you can not only increase your score but also repair bad dings you have received in your history in the past.
If you'd also like to fix your auto insurance rates and get something better and more affordable, start comparison shopping today by entering your ZIP code below!