How to Avoid Cheap Car Insurance Scams
Learn how to avoid cheap car insurance scams in our guide below by learning how to spot the fraud. Spotting agents who are willing to backdate policies and catching insurance payments that are made out directly to an agent are a few ways you can avoid car insurance scams near you. Read more.
Compare Car Insurance Companies
Secured with SHA-256 Encryption
UPDATED: Aug 9, 2021
It's all about you. We want to help you make the right car insurance coverage choices.
Advertiser Disclosure: We strive to help you make confident car insurance decisions. Comparison shopping should be easy. We are not affiliated with any one car insurance company and cannot guarantee quotes from any single company.
Our car insurance industry partnerships don't influence our content. Our opinions are our own. To compare quotes from many different car insurance companies please enter your ZIP code on this page to use the free quote tool. The more quotes you compare, the more chances to save.
Editorial Guidelines: We are a free online resource for anyone interested in learning more about auto insurance. Our goal is to be an objective, third-party resource for everything auto insurance related. We update our site regularly, and all content is reviewed by auto insurance experts.
Key takeaways...
With fake insurance plans, consumers buy a plan from a company that has no intention of paying claims
Fraudulent insurance agents who work for legitimate companies can take premiums for policies that they never set up
Call the state to confirm that a company is licensed, and check with the insurance company directly to be sure that your policy is active
When it comes to car insurance, there are several types of scams to be aware of.
In addition to the risk that consumers may try to defraud a company, there's also the possibility of people scamming each other through insurance claims, and cheap insurance scams are also on the rise.
Compare quotes today from top insurers and make sure you're getting the best deal on legitimate insurance.
Here's what you need to know in order to safeguard your own investments in the world of insurance.
How can you avoid scams from the public?
It may seem like it's hard to avoid someone who's intent on forcing an accident and filing an insurance claim against you, but there are ways that you can protect yourself.
Here are five potential current scams and how you can try to avoid them:
Forced Rear-End Collision – One car is following you closely and another slips in front of you. You slam on the brakes and get rear-ended. Avoid this common scam and potential payout by opening up a large following distance in front of you.
Bad Samaritans – In this con, you've already been involved in an accident when someone approaches you posing as an insurance consultant or official. They convince you to use a certain body shop, tow company, or health provider.
Faked Injuries – This may be one of the oldest scams in the book. If you're involved in an accident, take note of how people are behaving immediately after the collision. If they suddenly seem to be in more pain when the police arrive, they may be perpetrating a typical scam to get more money from an insurance settlement.
Mystery Victims – This is another common occurrence, and it involves people claiming injuries when they were never involved in the accident. Avoid this by taking notes after an accident, including gathering information about people in the other car. Filing a police report will also protect you.
Staged Accidents – There are all types of ways to stage an accident, including being waved into traffic by a friendly driver who then rams your car. Stay alert at all times to help avoid accidents, and try to leave large spaces around your vehicle whenever possible.
The problem with any of these scams is that they drive up the cost of insurance for everyone. By being vigilant and protecting yourself from accidents, you can keep your own rates down.
If you live in an area that's prone to fraud and currently have higher premiums, then you may want to shop around to bring the costs down.
Compare quotes from the top car insurance companies and save
Secured with SHA-256 Encryption
Do fake companies collect real premiums?
Criminals don't stop at defrauding companies one little accident at a time. They also set up phony businesses so that they can steal from hundreds if not thousands of people.
With this growing type of insurance fraud, phony companies collect premiums for policies that simply don't exist.
The rates, in this case, will seem too good to be true, but the policies are completely worthless. The company has no intention to pay claims, and they lack the proper infrastructure to cover claims even if they were willing. The fake documents look completely real, but you're still not covered.
There have also been reported cases of companies that are not state-licensed offering to sell insurance without having the proper authorizations.
When the state realizes what's occurring, they will shut the company down and the consumers will be left without insurance.
You should also be aware of fraudulent insurance agents who work for legitimate companies but deceive their clients for their own personal gain.
With this type of scam, unscrupulous agents will provide consumers with documentation of coverage, but they never actually deliver the policy to the company, so the individual is not covered.
The good news is that you can take steps to protect yourself from all types of insurance fraud at this level. Keep an eye out for these warning signs:
Agents who are very aggressive and pressure you to sign for a policy immediately
Premiums that are 15 to 20 percent lower than the competition for comparable coverage
Representatives who always reach out to you, but they don't have a listed phone number for you to contact them
If you notice any of these red flags, contact the State Insurance Department to report the activity. You'll have to start your search over again, but you'll be rewarded with a legitimate policy that gives you the protection you expect and require.
Are insurance scams a global problem?
Drivers in the United States aren't the only ones worried about buying phony car insurance. People in Great Britain refer to the copycat brokers as "ghost brokers,"
Zimbabwe has been flooded with fraudulent policies, and people in India are also on the lookout for fraudulent policies.
One way that states are fighting back against fake policies and uninsured motorists is by using the Internet to check for coverage.
While people can print out a fake insurance card that looks real, they cannot typically get into a company's records to show coverage when they have none.
High-risk drivers are typically targeted by the scams because they typically struggle to afford their auto insurance premiums.
They're promised substantial savings of hundreds or even thousands of dollars, and they may decide to buy the insurance without looking closely at the company. However, they're not covered to legally drive in most states, and they won't be covered in the event of an auto accident.
Compare Car Insurance Companies
Compare quotes from the top car insurance companies and save
Secured with SHA-256 Encryption
Need help learning to spot the fraud?
Spotting fraud can be hard, and even celebrities can fall victim to the scam artists. One famous example of this is when actor Tom Hanks and his wife were defrauded out of hundreds of thousands of dollars by an insurance agent.
Protect yourself by watching out for:
Agents who want the check payable directly to them or otherwise collect the payment personally
Misspellings or errors in the paperwork
Insurance offers from door-to-door salesmen
Demands for cash payments or money orders
Agents who are willing to backdate your insurance policy
Policies that are issued without any documentation or ID cards
Bills that come directly from an agent rather than the insurance company
Requests to sign blank insurance forms so that the agent can fill them out later – insurance related or not, never sign a blank form
Coverage that is half the price of what the competitors will charge
Compare quotes from the top car insurance companies and save
Secured with SHA-256 Encryption
Can states go digital to fight fake insurance cards?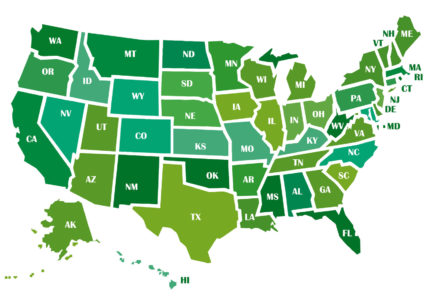 With most states requiring liability auto insurance and demanding that drivers carry proof of insurance, officers are seeing more fake insurance cards.
States like Michigan are fighting back by using the Internet to instantly confirm the information contained on a card.
According to experts, there are currently at least 30 states that allow for real-time insurance checks by officers. It allows law enforcement to crack down on those criminals who knowingly created their own fake cards. It will also discover those who have unwittingly purchased a phony insurance policy, although there may be consequences for being scammed.
The hope is that cutting back on the fake plans will help ease the financial burden on everyone.
Ignorance is no excuse. How can you protect yourself?
Most people would agree that someone who unknowingly buys fake insurance is a victim, but the potential costs don't end with the premiums.
You can still be ticketed by the police, and your savings can easily be wiped out if you have to pay for an accident out of your own pocket.
The good news is that there are a few steps you can take to catch the scam and protect your investment. This is particularly important if you're buying from a smaller or lesser known insurance company or have any concerns about the agent you worked with. Take the time to:
Call your state's Department of Insurance to confirm that the company and agent are licensed to provide services
Contact the insurance company yourself or visit legitimate insurance websites to confirm that you're in their system with an active policy. Many companies now offer online accounts.
Watch for policy information to arrive in the mail and conduct more thorough research if it does not
If you believe that you've been the victim of insurance fraud, then contact the State Department of Insurance as soon as possible. They can guide you to the right government agency so that an investigation can be initiated and determine if it is fraudulent activity and take the necessary actions.
Are bogus agents are rampant problem?
According to one major insurer, bogus agents are becoming a rampant problem. They're representing major insurance carriers, so most people don't do the necessary background work to ensure that the agents are legitimate.
They set up real insurance companies, but then they use invalid payment forms to the company while collecting premiums directly from the consumer. The policies are canceled after being legitimately issued, and that makes this form of fraud one of the hardest to catch and put a stop to.
One way consumers are able to protect themselves is by only working with licensed insurance agents. You can start by finding your agent the right way:
Get referrals from people you know, like friends, family, colleagues, and neighbors
Visit a major company's official website and get agent information directly from their online listings
Look at listings provided by trade associations or ask for referrals from business owners
Most agents have credentials showing what type of training they have completed. You should seek out providers who are highly trained and that have registered with the state. You can also use comparison tools to find quotes directly from insurance companies and bypass finding an agent completely.
There's nothing wrong with trying to save money, however, a fraud can wind up costing you a good deal more instead of saving money. Follow these tips to protect yourself from being a vulnerable person against individuals who fake accidents, people who set up phony insurance companies, and those who pose as legitimate agents. Knowing what to look out for can help keep you one step ahead of the those looking to commit an insurance scam.
You can also save on your insurance policies by shopping around for better discounts and more appealing rates. Shop today using our free comparison tool.