Can I buy car insurance with a learner's permit?
You're not always required to buy car insurance with a learner's permit. You may still be covered by your parents' insurance until you become a fully licensed driver. Check your parents' policy to see if coverage extends to young drivers with a learner's permit. You can also compare car insurance rates for young drivers online to find the cheapest quotes in your city. Enter your ZIP code below to compare quotes for free.
Compare Car Insurance Companies
Secured with SHA-256 Encryption
UPDATED: Sep 27, 2020
It's all about you. We want to help you make the right car insurance coverage choices.
Advertiser Disclosure: We strive to help you make confident car insurance decisions. Comparison shopping should be easy. We are not affiliated with any one car insurance company and cannot guarantee quotes from any single company.
Our car insurance industry partnerships don't influence our content. Our opinions are our own. To compare quotes from many different car insurance companies please enter your ZIP code on this page to use the free quote tool. The more quotes you compare, the more chances to save.
Editorial Guidelines: We are a free online resource for anyone interested in learning more about auto insurance. Our goal is to be an objective, third-party resource for everything auto insurance related. We update our site regularly, and all content is reviewed by auto insurance experts.
Key takeaways...
Everyone who drives needs some type of insurance
If you are on a learner's permit, you may not be required to get insurance until you get your license
Check with your insurance company and shop and compare to find out your options
Car insurance is necessary for everyone.
You must be covered if you intend to drive on the roadways in any state of the U.S. with the exception of Virginia and New Hampshire, which do not require car insurance.
However, if you are driving with a learner's permit, you may remain on your parents' insurance as long as you remain in your parents' house and are single. If you get married or move out of your parents' house, you will have to find your own insurance.
It is important to understand that you must carry insurance even if you are under a learner's permit but you may use your parents' insurance if you fit the criteria mentioned above.
If you are in need of better auto insurance rates, start comparison shopping today by entering your ZIP code above!
What kind of insurance should I buy?
If you are on a learner's permit and have not yet received your driver's license, you are still required to have auto insurance. If you are on your parents' insurance, you are covered.
The only requirements for staying on their car insurance are that you are single, living in your parents' house and that you have a car.
There is one fact to keep in mind: you may not have to be added to your parents' insurance until you pass the test and start driving independently. This is a question that your parents should ask your current auto insurance policy.
The kind of insurance you should get if you do opt to get your own insurance or are living outside of your parents' home depends on your individual needs.
However, you should make sure that you are covered one way or the other with either your parents' insurance or your own insurance with the mandatory coverage for your state.
Compare quotes from the top car insurance companies and save
Secured with SHA-256 Encryption
What are my state requirements?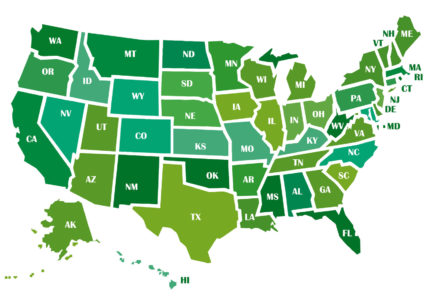 The rule of law regarding insurance goes to the power of the states. Each state is required to fulfill the law according to the state of residence.
So you should get familiar with the driving laws and the insurance regulations of your state and make sure that you are in compliance with them.
It is important to know what your state requirements are for mandatory insurance coverage.
Compare Car Insurance Companies
Compare quotes from the top car insurance companies and save
Secured with SHA-256 Encryption
Most Important Coverage Types
No matter which state you are in, here are the major types of auto insurance that you should look into when shopping for insurance.
Liability – Liability is a legal term meaning that you are legally responsible for the death or injury of others if you have an accident that is ruled to be your fault. Liability coverage is always required by all states that require insurance.
Injury and Personal Property – Liability for injury and personal property insurance should be a part of your coverage as well. Expenses that are incurred from injuries sustained in an accident that you caused can add up.
Collision – Collision insurance is created for the purpose of repairing or replacing your automobile in the event of any type of accident. It includes mishaps with your car by itself such as hitting a pole or other situation, as well as accidents involving other vehicles.
Comprehensive Coverage – Comprehensive coverage covers not only collision repair in an accident but also acts of nature such as hail, floods, vandalism, theft, and any other situation that damages or results in the loss of your vehicle.
Uninsured/Underinsured – Uninsured/Underinsured insurance is a legal and financial protection that you give yourself in the event the other driver is not properly insured.
Medical Payments – Medical payments are unpredictable. This extra coverage can cover those costs and take care of any unpaid medical bills that resulted from an accident.
PIP Coverage – PIP, known as personal injury protection is there to cover any extra expenses if anyone is injured as a result of your negligence.
These are the most important types of coverage and you should consider all of them if you think you could ever be in a situation that requires these types of protection. The truth is, you never know what type of situation you are going to be in while driving.
You could fail to yield because you are unfamiliar with an area in which you are driving or someone could hit you from behind.
Regardless who is at fault, auto insurance is meant to take care of expenses that often run into the thousands that most people cannot afford to pay out-of-pocket.
Discounts for New Drivers
In most cases, if you are driving with a learner's permit, you are still learning to drive. This is a time when you can learn defensive driving, learn to avoid being distracted while driving, and practice safe driving habits.
If more young people could learn these lessons while still in the process of getting their learner's permit, there would be fewer accidents.
The good news is, that if you do practice safe driving, you may be eligible for a safe driving discount. You would not be eligible for this discount until you have your official license and have been driving for awhile.
But keep this in mind once you are an established driver and ask your insurance agent if you qualify for a discount.
Shop around and ask questions when you look for your auto insurance. It's important to get what you need to protect yourself and others.
Start comparison shopping today for the best auto insurance rates! Enter your ZIP code below to get started!