Does my car lease include insurance?
Your car lease does not include car insurance. In fact, your lease agreement may require you to carry certain levels of coverage beyond the state's minimum liability requirements. Find cheap car insurance rates for leased cars with our free comparison tool below. Enter your ZIP code and get free quotes from local car insurance companies.
Compare Car Insurance Companies
Secured with SHA-256 Encryption
UPDATED: Sep 28, 2020
It's all about you. We want to help you make the right car insurance coverage choices.
Advertiser Disclosure: We strive to help you make confident car insurance decisions. Comparison shopping should be easy. We are not affiliated with any one car insurance company and cannot guarantee quotes from any single company.
Our car insurance industry partnerships don't influence our content. Our opinions are our own. To compare quotes from many different car insurance companies please enter your ZIP code on this page to use the free quote tool. The more quotes you compare, the more chances to save.
Editorial Guidelines: We are a free online resource for anyone interested in learning more about auto insurance. Our goal is to be an objective, third-party resource for everything auto insurance related. We update our site regularly, and all content is reviewed by auto insurance experts.
Here's what you need to know...
You're required to buy your own personal car insurance on the vehicle that you lease
The lessor will verify that you have the mandatory insurance before you can drive off
Leasing companies typically require higher liability limits on leased vehicles
Your contract requires you to buy comprehensive and collision in addition to liability
Many leasing contracts require the lessee to purchase gap insurance for protection
One of the many reasons that consumers lease rather than buy is because they can get more car for their money.
While leasing is becoming ever the more popular, only about 30 percent of new car transactions today are leased.
Since a majority of buyers are still sticking to buying, it's not uncommon for first-time leasers to get confused by all of the terms written into the typical lease contract.
After you understand how a lease works, you'll be able to negotiate the best deal possible and comply with the terms and conditions on your end.
Start comparing car insurance rates now by using our comparison tool above! Enter your zip code to get started for FREE!
How much liability coverage are you required to carry?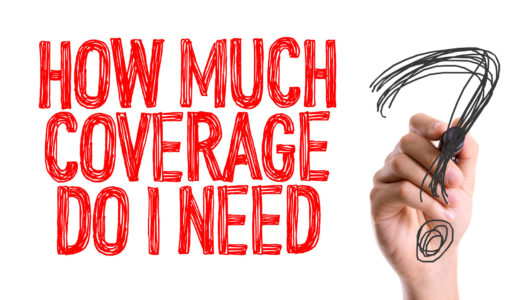 When you register a vehicle in your name, most states require you to purchase liability coverage and maintain it so that there's a buffer of protection for third parties.
While state officials do mandate and verify drivers carry the required coverage, the actual state minimum requirements are extremely low.
The limits that the lessor requires you to maintain, however, aren't so low.
Here's a breakdown of the most common lease requirements:
Bodily Injury (BI)

–

$150,000 per person, up to $300,000 per incident
Property Damage (PD)

–

$50,000 per accident
In the United States, virtually all lease contracts state that the contract holder must carry high limits of liability even when the state requirements are low.
Compare Car Insurance Companies
Compare quotes from the top car insurance companies and save
Secured with SHA-256 Encryption
Compare quotes from the top car insurance companies and save
Secured with SHA-256 Encryption
How can the high liability requirements affect you?
If you normally buy lower limits of liability, it could be a shock that you're now required to buy limits that provide hundreds of thousands in coverage.
Raising these limits from the state minimums can certainly affect your premiums.
The impact could be even worse if you have an inexperienced or high-risk operator in your household.
This is why it's extremely important for consumers who lease to shop around while they're looking for the best coverage.
Who is liable to carry the insurance in the eyes of the state?
When you buy, you apply for a registration. When you lease, you're technically never the owner of the vehicle.
This might confuse you a bit when you're learning about insurance requirements and how the car owner is the one liable for buying insurance.
While the leasing company owns the car, you're given authorization by the lessor to register the car in your name.
This authorization says that the title certificate holder, which is the owner of the car, passes the duty to register the car onto you.
What You Need to Know About Physical Damage Coverage
You're required to buy more than just high limits of liability coverage. You'll also need to buy your own physical damage coverage on the leased car to pay for damage to the car.
Lessors require physical damage coverage to ensure that you can afford to have their property repaired if you suffer a loss.
Without this requirement, the company may have to write-off lease payments and other capitalized revenues following an unavoidable loss.
Physical damage coverage options consist of two different forms: comprehensive and collision.
Here's how each type of coverage works to keep you in tip-top financial shape:
– Comprehensive
Comprehensive is often referred to as comp or other-than-collision. This is an optional coverage in the insurance universe that pays to cover claims for fire damage, theft, vandalism, or other claims that occur when a vehicle is parked.
– Collision
Collision coverage, which is the more expensive option out of the two, will pay to repair damage to the car or replace the car when you're in an accident with another car or object.
While there's not a stated benefit limit, the policy will only pay up to the fair market value of the car and doesn't cover depreciation.
Compare quotes from the top car insurance companies and save
Secured with SHA-256 Encryption
Can you select any deductible?
Since you have to build a robust insurance policy to satisfy your lease, you might assume that raising your deductibles to balance out the added cost is an option.
Unfortunately, the contract also limits how high your deductible can be. In most cases, your deductibles should be no higher than $500.
Some companies allow $1000 deductibles on higher end cars.
This is in place to ensure that you'll be able to cover your portion of the damage to have the car repaired when you file a claim.
Why is gap insurance a common requirement?
Gap insurance is a special add-on that covers the gap between how much a vehicle is worth and how much the car was worth at the time you took out your contract.
Since depreciation is an important factor when it comes to leasing, you'll be required to add gap coverage.
This protects the lessor if the car is totaled during the term.
Some contracts have a gap waiver that protects you and don't require you to carry gap on your insurance.
If you're in the process of arranging a lease, now is the time to start comparing premiums to see if premiums are manageable.
You can easily do this by using an online rate comparison tool that will direct you to quotes from several companies at once.
After you compare pricing, you'll be ready to make the best purchase.
Start comparing car insurance rates now by entering your zip code in our FREE tool below!