Luxury Car Insurance
Luxury car insurance is more expensive than a standard policy due to the vehicles' expensive repair costs. Average luxury car insurance rates are $168 per month, but you could pay more depending on where you live and the kind of features on your luxury vehicle. Compare luxury auto insurance rates online to get the best deal. Start now with our free comparison tool below.
Compare Car Insurance Companies
Secured with SHA-256 Encryption
UPDATED: Apr 13, 2022
It's all about you. We want to help you make the right car insurance coverage choices.
Advertiser Disclosure: We strive to help you make confident car insurance decisions. Comparison shopping should be easy. We are not affiliated with any one car insurance company and cannot guarantee quotes from any single company.
Our car insurance industry partnerships don't influence our content. Our opinions are our own. To compare quotes from many different car insurance companies please enter your ZIP code on this page to use the free quote tool. The more quotes you compare, the more chances to save.
Editorial Guidelines: We are a free online resource for anyone interested in learning more about auto insurance. Our goal is to be an objective, third-party resource for everything auto insurance related. We update our site regularly, and all content is reviewed by auto insurance experts.
Here's what you need to know...
Driving a luxury car indicates a certain amount of financial success
Liability insurance pays for the costs that the other driver incurs when you cause an accident
The requirements for bodily injury are low
Luxury car insurance is basically no different than car insurance for any other vehicle.
However, you do need to make sure it will cover everything you need it to. The good news is that there are even ways to save money while doing so!
Your search ends here when you get rates for FREE by entering your zip in the comparison box above!
Higher Liability Limits
While the basics of a car insurance policy on a luxury car are no different, the reality is that you will be perceived differently than other car owners.
Driving a luxury car indicates a certain amount of financial success. While this is certainly not a bad thing, it is something to keep in mind.
Liability insurance pays for the costs that the other driver incurs when you cause an accident.
Not only will it pay to repair the other driver's car, but it will pay for his medical bills, any wages he loses while recovering from the accident, and the pain and suffering settlement.
It will also cover your legal costs if he were to sue you in court.
Because you drive a luxury vehicle, the chances of being sued are higher than they would be if you drove another type of vehicle, simply because you appear to have money.
If you carry low amounts of liability, you could be in a lot of financial trouble.
While each state sets its own lower limits for liability requirements, they all have one thing in common: they are fairly low amounts.
Some states, like California, only require $5,000 in property damage liability. While this would cover the damages from minor fender-benders, it would hardly pay to replace most vehicles on the road.
The requirements for bodily injury are also low. For instance, California only requires $15,000 in coverage per person, with a maximum of $30,000 for the accident.
If you don't have adequate insurance to cover the costs of an accident, it's highly likely you'll be dragged into court so that the other driver can recover the costs.
This is why financial advisors and those in the insurance industry, like the Rocky Mountain Insurance Information Association, suggest carrying much higher liability limits, like 100/300/50 or higher.
Compare quotes from the top car insurance companies and save
Secured with SHA-256 Encryption
Umbrella Policy
Even liability levels this high might not be enough protection. You might need to look into an umbrella liability policy.
This type of policy provides additional liability coverage, usually in $1 million increments, that goes into effect after your auto or homeowner's liability is exhausted.
In fact, Kiplinger Magazine suggests that almost everyone needs an umbrella policy.
It is fairly inexpensive, usually only a couple hundred dollars for the first million dollars' worth of coverage. Not only does it cover your current assets, but it could protect your future wages, as these could be garnered to pay a lawsuit.
If you aren't sure whether you need an umbrella policy, Kiplinger gives this guideline.
If you make over $100,000 a year or have over $1 million in assets, this could be retirement accounts, homes, or other property, you probably need one.
Gap Insurance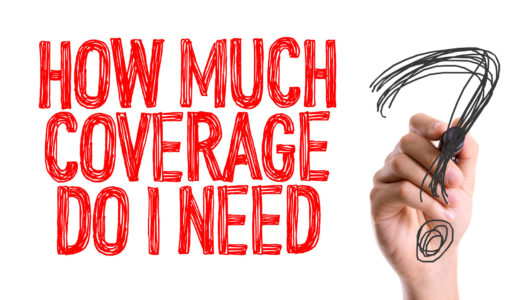 Another type of insurance to consider is gap insurance. This is a very helpful type of insurance that could protect you from paying for your luxury car in case of an accident that totals the car.
If you have bought a brand-new luxury car with either no down payment or a low down payment of less than 20 percent or 30 percent, you should probably look into gap insurance.
It pays the gap between what your collision or comprehensive coverage will pay, which is only the current market value according to the Insurance Commissioner for the state of Washington, and the loan balance on the car.
For example, if you buy a $50,000 luxury vehicle with only $5,000 down, you have a $45,000 car loan balance.
Everyone knows that brand-new cars depreciate quickly in the first few months of ownership, often as much as 30 percent.
So, in six months, your brand-new car may only be worth $35,000.
However, it's highly unlikely that you will have paid the car loan down that far in only six months. You will be responsible for paying for the difference even with no car to show for it.
That's where gap insurance comes in. It will pay the remaining amount of the car loan so that you can start fresh.
You won't need it for the lifetime of the loan, just until your loan balance is equal to or less than the actual market value of the car. If you buy a used vehicle, you probably won't need gap insurance at all.
Compare Car Insurance Companies
Compare quotes from the top car insurance companies and save
Secured with SHA-256 Encryption
Comp and Collision
If you have a car loan on a luxury vehicle, whether you bought it used or new, you will be required to carry comp and collision coverage on the car until the loan is paid off.
Once the loan is paid off, these become optional coverages. Collision pays for your car repairs if you cause a traffic accident.
Comprehensive pays for them if the damage occurs in something besides an accident, like hail damage or if the car is stolen.
On a luxury vehicle, you probably want to keep collision and comprehensive even if the car is paid for.
Unless you can easily afford to buy another identical vehicle outright or pay for thousands in repairs out of pocket, you are better off keeping the policies.
A better way to save money on them is to raise the deductible. Since the deductible is the part of the repair price that you agree to pay, if you raise it the premium for your insurance will go down, often significantly.
Compare quotes from the top car insurance companies and save
Secured with SHA-256 Encryption
Alternative Insurance Options
Depending on your personal circumstances, you might be able to use some alternative insurance options for your luxury vehicle.
If you rarely drive the vehicle, you might look into the new pay-as-you-go car insurance.
This would probably not be a good option if you use the car to commute daily, but if it is only a weekend car or rare-occasion car, it could be a good way to save money.
With pay-as-you-go-coverage, you can still set the high liability levels you need and still have comprehensive and collision, etc.
The difference is that, instead of having a set payment every month or every six months that basically covers you for unlimited miles, the amount you pay is based on how many miles you drive each month.
Another non-traditional option might work if you have young drivers in the house.
Conventional insurance advice is to insure all of your family vehicles on one policy since you get discounts for having multiple cars on the policy.
Other Ways to Save on Luxury Car Insurance
Besides raising your deductible and keeping you teenaged driver away from your luxury car, there are other ways to save money on luxury car insurance.
Also look for any other discounts. Be sure the insurance company credits you for all of the safety features and any theft-deterrent features with which your car is equipped. Look at your credit history to make sure it is accurate.
A lower credit score can raise your insurance premiums. Consider taking a driver's safety course for an additional discount.
Also, keep in mind that no two car insurance companies charge the same amount.
So shopping around and getting competing quotes for your insurance premium is a great way to find the coverage you need for a luxury vehicle while paying the least.
Start comparing right now for FREE just by putting your zip code in the box below!