What does no-fault car insurance mean?
Every state either has at-fault for no-fault car insurance laws. No-fault auto insurance means that each driver is responsible for covering their own damage and medical costs after an accident. Drivers in no-fault car insurance states are not allowed to sue one another for damages unless certain limits are met.
Compare Car Insurance Companies
Secured with SHA-256 Encryption
UPDATED: Oct 13, 2020
It's all about you. We want to help you make the right car insurance coverage choices.
Advertiser Disclosure: We strive to help you make confident car insurance decisions. Comparison shopping should be easy. We are not affiliated with any one car insurance company and cannot guarantee quotes from any single company.
Our car insurance industry partnerships don't influence our content. Our opinions are our own. To compare quotes from many different car insurance companies please enter your ZIP code on this page to use the free quote tool. The more quotes you compare, the more chances to save.
Editorial Guidelines: We are a free online resource for anyone interested in learning more about auto insurance. Our goal is to be an objective, third-party resource for everything auto insurance related. We update our site regularly, and all content is reviewed by auto insurance experts.
Here's what you need to know...
States mandate their own auto insurance laws and choose the type of system they operate under
The two most popular types of insurance systems used to settle claims are tort systems and no-fault systems
In states with a no-fault system, companies don't use fault to determine which company will pay for injury losses
States with no-fault insurance systems require every vehicle owner to carry Personal Injury Protection
Personal Injury Protection pays for reasonable medical bills, transportation, rehabilitation costs, and lost wages in most states
There are currently only 12 states with no-fault insurance laws, but no state is a pure no-fault state
Not all states operate under the same type of auto insurance system.
Since it's up to the state to set their own laws, the actual auto insurance systems and the required coverage options can vary dramatically when you cross over the state line.
While many drivers are aware that insurance requirements aren't the same across the board, not many are familiar with no-fault insurance laws and how these unique systems work.
If you'd like to learn more about the system, why it's in place, and how it works, read this guide to no-fault insurance and learn what you need to know.
Start comparing car insurance rates now by using our FREE tool above! Enter your zip code above to get started!
What is a tort auto insurance law?
While you might not be with the term, tort auto insurance laws are the laws that most are familiar with.
In a state that operates under a tort system, companies use fault to determine which auto insurance company will be responsible for paying for the damages sustained in the loss.
The law also says that the victim in the accident is free to sue the at-fault party for pain and suffering and other out-of-pocket expenses without any restrictions.
Under these common fault-based systems, when you are responsible for a car crash your company will pay for the victim's medical expenses and other types of related damages.
If you're not primarily at fault in an accident, your insurance doesn't pay and the other party may need to file a claim against their own coverage or their medical insurance for their bills to be covered.
Compare quotes from the top car insurance companies and save
Secured with SHA-256 Encryption
What is the difference between tort laws and no-fault laws?
The main difference between a state with tort laws and a state with no-fault laws is how fault is used after a loss is investigated.
In no-fault states, companies do still investigate claims to determine the allocation of fault.
The fault isn't used to determine which company will pay for medical bills, emergency transport, lost wages and rehabilitation expenses.
Instead, each company will file a claim for their own medical bills under their own policy. When the claim is filed, it can limit their right to sue for damages.
How many states have a no-fault based system?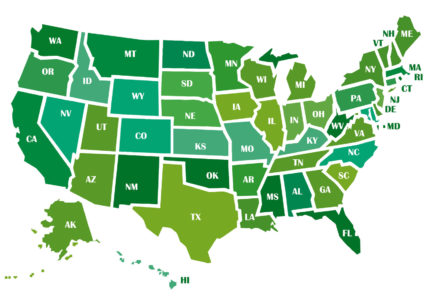 Currently, a majority of states have tort liability laws. There are still, however, 12 states that have some form of a no-fault insurance system that only allows parties to sue when certain conditions have been met.
Here's a list of the no-fault states with their own unique requirements:
Florida
Hawaii
Kentucky
Kansas
Pennsylvania
Utah
Massachusetts
Michigan
New York
New Jersey
North Dakota
Minnesota
Compare Car Insurance Companies
Compare quotes from the top car insurance companies and save
Secured with SHA-256 Encryption
Does a pure no-fault insurance system exist?
The systems that are currently in place in no-fault systems aren't actually purely no fault. Instead, they are referred to as modified no-fault.
This is because many states will give their residents the option to purchase the right to sue through a 'limited tort' provision.
If certain criteria is met, the victim in an accident can file a claim against their policy and also sue the at-fault driver for damages that exceed their limits.
Even when limited tort provisions aren't purchased, the fault is used in many scenarios where drivers from different states are involved in the same loss.
As long as there are states with no-fault systems and states with tort liability systems, there will never be a purely no-fault state.
Compare quotes from the top car insurance companies and save
Secured with SHA-256 Encryption
What is the purpose of states with no-fault laws?
You might be curious to learn why some states enforce this unique type of system that requires injured parties to seek compensation for medical bills from their own insurance company.
While it seems like a requirement that might affect competition in the marketplace, it's actually designed to help reduce the number of personal injury cases that go to court by limiting the party's right to sue.
Since it's expensive and time-consuming to go through the court to settle a claim, some state officials feel like no-fault laws will reduce the costs and therefore, save the state justice departments and the carriers money.
While this is the idea, many states have found that there's a larger incidence of insurance fraud in no-fault states because of staged accidents.
What coverage is required in no-fault states?
The insurance requirements in no-fault states aren't quite the same as requirements in tort liability states.
Since your own policy will be paying for your medical expenses, you'll be required to purchase no-fault coverage called Personal Injury Protection or PIP.
Some other types of coverage that could be required if you live in a no-fault state will include:
Bodily Injury Liability (in choice no-fault states)
Property Damage Liability
What does Personal Injury Protection specifically pay for?
Some states have very specific limitations surrounding PIP coverage restrictions. Other states might actually have unlimited protection for all reasonable costs that are covered by PIP.
Other states might actually have unlimited protection for all reasonable costs that are covered by PIP.
Here's a list of some of the different types of expenses that you can file claims for under your own auto insurance when you carry PIP:
Immediate medical expenses and ongoing medical treatment
Loss of earnings (subject to a percentage of your earnings)
Funeral expenses (subject to a separate limit)
Assistance services for house cleaning, cooking or childcare while you're recovering
Survivors' benefits
Expenses for emergency medical transport
Compare quotes from the top car insurance companies and save
Secured with SHA-256 Encryption
How are physical damage losses paid?
You might have noticed that there's really only been talks about how your medical bills are paid if you're injured in a loss.
If you're wondering whether or not physical damage applied under the no-fault law, you might be shocked to learn that it doesn't.
If you're wondering whether or not physical damage applied under the no-fault law, you might be shocked to learn that it doesn't.
No-fault laws only apply to personal injury and not to damage on real property.
Because of this, drivers in the 12 states where no-fault is required will be expected to carry Property Damage Liability to pay for the damages that they're negligent for.
Without a Property Damage requirement, the victim in a loss could use their right to sue over property damages and you could be at risk of a loss of assets or even a wage garnishment.
How do you cover your own medical expenses in fault-based states?
If you don't live in a no-fault state, it doesn't mean that you can't purchase medical coverage to pay for your injuries.
In tort liability states, companies are required to offer their policies a minimum amount of medical payments coverage, which pays for the medical expenses incurred by the policyholder and their passengers in a crash.
Just like Personal Injury Protection, fault is not used when paying out medical payments claims.
Unfortunately, medical payments will not pay for all of the expenses for lost wages and rehabilitation that's covered under Personal Injury Protection.
In most states, Med Pay is an optional coverage that you may be required to reject in writing.
How do premiums in no-fault states differ from premiums in fault-based states?
Auto insurance premiums are directly affected by the rate filings, the claims statistics and what types of coverage are required.
While the main goal of states who pass no-fault laws is to lower auto insurance premiums by reducing court costs, the statistics show that insurance premiums in these states are really 25 percent higher on average.
It's important that you remember that the Personal Injury Protection portion of the policy makes up for 20 percent of the policy premiums, which can really increase average auto insurance costs in an entire state.
If you're moving to a no-fault state, it's time to price the cost of insurance with the leading providers. It's still a competitive market when carriers set their own rates that are approved by the state.
Be sure that you comparison shop before selecting any policy.
Use an online auto insurance rate comparison tool and you can find those rates all at once in just minutes. Enter your zip code below and start comparing quotes now!