What to Do After a Car Accident Without Insurance
Driving without car insurance leaves you vulnerable to lawsuits after a car accident. Here's what to do after a car accident without insurance: call the police to get a documented report of the accident and call a car accident lawyer to learn about the legal options available to you. You should also find car insurance coverage as quickly as possible. Enter your ZIP code below to get free car insurance quotes and buy a policy online as soon as today.
Compare Car Insurance Companies
Secured with SHA-256 Encryption
UPDATED: Sep 27, 2020
It's all about you. We want to help you make the right car insurance coverage choices.
Advertiser Disclosure: We strive to help you make confident car insurance decisions. Comparison shopping should be easy. We are not affiliated with any one car insurance company and cannot guarantee quotes from any single company.
Our car insurance industry partnerships don't influence our content. Our opinions are our own. To compare quotes from many different car insurance companies please enter your ZIP code on this page to use the free quote tool. The more quotes you compare, the more chances to save.
Editorial Guidelines: We are a free online resource for anyone interested in learning more about auto insurance. Our goal is to be an objective, third-party resource for everything auto insurance related. We update our site regularly, and all content is reviewed by auto insurance experts.
Key takeaways...
The only state that does not require auto insurance is New Hampshire
In 2012, approximately 12.6 percent of drivers in the nation were uninsured
Drivers who have been involved in accidents can still shop around for better rates
Across the nation, drivers carry auto insurance to protect themselves and other drivers in the event of an accident.
In 2012, approximately 12.6 percent of drivers in the nation were uninsured and unprotected.
Driving without insurance leaves you vulnerable to lawsuits, leading to a host of legal problems.
If your insurance has lapsed because you missed a payment, then you can usually call the company to have it renewed immediately. If you've been worried about the cost of the premiums, then you can shop around for better rates.
Start comparison shopping today by using our FREE online quote tool! Enter your ZIP code above!
Most States Have Minimum Insurance Requirements
The expectations and limits vary from one region to the next, but 49 states plus the District of Columbia currently have minimum liability insurance requirements.
New Hampshire is the only state in the U.S. that does not require auto insurance.
Minimum liability insurance typically includes basic levels of:
Bodily injury liability for one person in an accident
Bodily injury liability for multiple people involved in accident
Property damage
The limits in some states can be extremely low. Pennsylvania, for example, has a minimum requirement for property damage of $5,000.
Most accidents can easily cause more than $5,000 in damage, and you would wind up being personally responsible for the difference between the actual damage cause and the insurance cap.
Going with low limits is an easy way to save, but it also leaves you unprotected. You're better off asking for higher coverage levels and then shopping around to find the most attractive rates.
You may be able to find the protection you need at a price that fits your budget.
Compare quotes from the top car insurance companies and save
Secured with SHA-256 Encryption
No-Fault Compared to Tort States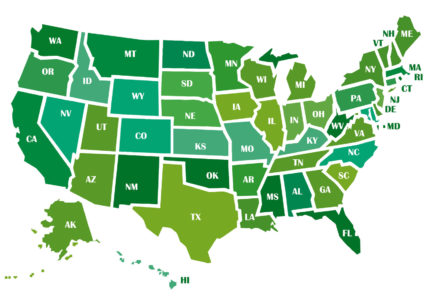 When it comes to auto insurance, there are two different legal systems currently operating in the United States. If you cause an accident and someone is injured, they can typically only sue you for damages if you live in a tort state.
People who live in a no-fault state have to file a claim with their insurance company, and you can typically only be sued if the damages meet certain levels.
However, in either state, you could potentially be named in a lawsuit to cover the damages and injuries caused to other parties.
Even if you don't have any assets that could be seized and there's little money in your checking account, the lawsuit can still become a serious hardship for you if your wages are garnished.
If you have equity in your home or even your car, then you could be risking that equity in a lawsuit as well.
What You Stand To Lose
You can avoid a monthly bill by dropping auto insurance, but you'll increase your own personal risk in the process. One problem is that people harmed in an accident can sue you for the full amount of their damages and injuries.
Even if you don't have money in the bank, they may still be able to go after your:
Savings account
Portion of earnings from future checks
Home
Compare Car Insurance Companies
Compare quotes from the top car insurance companies and save
Secured with SHA-256 Encryption
The time following an accident can quickly become an extremely stressful period as you struggle with the aftermath and the legal consequences of driving uninsured.
Even if you don't cause any accidents, states can still:
Impose legal fines
Suspend your registration or license
Impound the car
Consequences will vary by state, but the good news is that you can avoid these problems by shopping around for auto insurance. Even if you only carry minimal amounts, you'll still have the peace of mind and protection that comes with being covered.
By shopping around for affordable plans, you can save money on your coverage and get the levels that you need.
The Other Insurance Company Can Sue You
Many people choose to protect themselves with an uninsured motorist rider on their insurance plan.
If you run a red light and hit someone who has this type of coverage, they will file a UIM claim with their own provider. The claim will typically cover the other driver, but your problems may just be starting.
When an insurance company has to cover damages caused by another party, then they can pursue legal action against that party to be reimbursed.
The process is called subrogation, and you will likely have to pay something to resolve the matter. Insurance companies have the means to hire lawyers, pursue collections, garnish wages, and see the matter through the full extent of the law.
Compare quotes from the top car insurance companies and save
Secured with SHA-256 Encryption
What to Do Immediately After the Accident
If your insurance has lapsed for any reason and you're involved in an accident, you'll still want to involve the police.
While you may want to pretend that the event never occurred, there are some very sound reasons for still putting in the call and having everything recorded by a neutral third party.
Getting the police report will:
Allow the accident to be investigated; it's always possible that the other driver could be at fault
Put the damages and injuries in writing to minimize the chance of fraudulent claims against you later
Show that you are a thoughtful individual who is looking out not only for yourself but for the safety of others as well
Getting Insurance Again Can Be Tricky
Traditionally, insurance rates are higher for people who have allowed their insurance to lapse.Since insurance usually lapses for non-payment, most companies consider people who forget to pay the bill as a greater risk.
Statistics back up this mentality. Research shows that people who let their insurance lapse are also more likely to be involved in accidents. The good news is that you can get the rates to come back down after a few years of consistent coverage.
In the meantime, you can avoid the high fees to begin with by taking the time to shop around for different insurance plans.
When you shop around and compare rates, you can be confident that you're getting the best possible price for your situation. Even if you have a poor driving record and are worried about the rates, you can still get better prices by looking at different companies.
Use comparison sites to learn more about companies that can assist you and see what their quotes would be.
Protect Yourself and Others
Protect yourself and other people on the road by making sure that you're adequately insured.
Rather than saving by dropping your plan, see about raising your deductible or asking about other discounts.
Make the process of shopping around fast and easy by using a comparison site. Start comparison shopping today with our FREE online quote tool! Enter your ZIP code below to compare auto insurance rates!