When do you need car insurance?
You need car insurance to legally drive in the United States. Each state requires vehicles to be insured before they are registered with the state, and most banks require proof of insurance before issuing auto loans. Specific instances when you need car insurance during travel can vary depending on if you're renting a car or if you need temporary car insurance. Start shopping around for car insurance with our free tool below so you aren't caught driving without coverage.
Compare Car Insurance Companies
Secured with SHA-256 Encryption
UPDATED: Sep 23, 2020
It's all about you. We want to help you make the right car insurance coverage choices.
Advertiser Disclosure: We strive to help you make confident car insurance decisions. Comparison shopping should be easy. We are not affiliated with any one car insurance company and cannot guarantee quotes from any single company.
Our car insurance industry partnerships don't influence our content. Our opinions are our own. To compare quotes from many different car insurance companies please enter your ZIP code on this page to use the free quote tool. The more quotes you compare, the more chances to save.
Editorial Guidelines: We are a free online resource for anyone interested in learning more about auto insurance. Our goal is to be an objective, third-party resource for everything auto insurance related. We update our site regularly, and all content is reviewed by auto insurance experts.
Key takeaways...
Even though there are still millions of people in the U.S. who drive without the required car insurance, you are still legally obligated to have it
Any time that you get behind the wheel of a car to drive on a public road, you need to have car insurance
If you are going to borrow someone else's car and do not have your own insurance coverage, you need to make sure that their insurance will cover you if you drive that car and are involved in an accident
If you are lending your car to another driver, it is always a good idea to make sure that other drivers are not excluded from your policy coverage
Instead of dealing with fines for being caught without car insurance, it is a better option to get covered by requesting multiple quotes and finding the right policy for you
There are laws in every state of the U.S. that require drivers to have car insurance because it puts everyone on the road at a huge risk if all drivers are not covered.
Besides the penalties and consequences from the state for not having the right car insurance, there is a whole host of financial reasons why you should be protected when you drive. Essentially, any time that you operate a vehicle, you need to be insured.
If you do not currently have coverage and plan to drive, you should get covered right away. Compare companies now using our free tool and be sure you have the best coverage for your needs!
Insurance Coverage Requirements in All States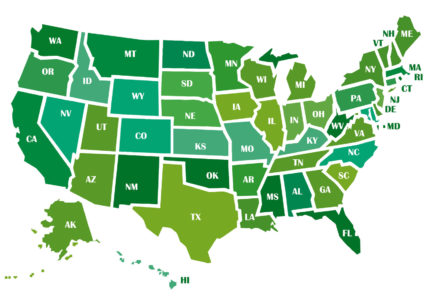 There is no escaping the laws that require you to have insurance coverage. No matter which state you drive in throughout the U.S., there is some law or regulation requiring that drivers be covered by auto insurance.
Even though the penalties are different depending on the state that you are driving in, the bottom line for all drivers is the same.
If you are operating a car without insurance, you are looking at a huge potential headache.
You might think that just because you do not own your own car that you are not required to get coverage. This would be a huge mistake. Even if you are just borrowing a friend or family member's car, you need to be insured.
Every time that you get on the road, there is a risk of an accident, which is why car insurance requirements are so broad across the board.
If you have your own car insurance, then when you borrow your friend's car you may be covered by both your own insurance and their coverage.
If you do not have your own separate car insurance, then your friend's car insurance will insure the car that is being driven, so you may be covered. It is always a better idea, however, to make sure that you are insured before you drive it.
Compare quotes from the top car insurance companies and save
Secured with SHA-256 Encryption
Car Insurance for a Leased or Financed Car
If you are leasing or financing a car, you may be surprised to find out that the car insurance requirements are probably a bit more extensive.
While you are still required to carry the state minimum level of auto insurance, the lender or car dealership is able to impose additional car insurance requirements on you by virtue of the loan or leasing agreement that you sign.
The most common types of car insurance that you would have to get for a leased or financed car are the following:
Comprehensive insurance
Collision insurance
The reason why lenders and car dealerships require you to get this additional coverage is because they are still the actual owners of the car. If you are financing a car, you do not officially own it outright until the loan is totally paid off.
Until then, the car dealership still legally owns the car while you drive it and pay down the loan.
Be sure to follow all of the requirements in your loan or lease agreement in terms of the required auto insurance coverage.
You will still be able to get coverage from the insurance provider of your choice, so you should be sure to look for various quotes before making a decision about the coverage you will get.
Even if the lease or loan agreement has a minimum amount of insurance you should carry, you may want to consider a higher policy limit so that you do not have to pay from your own resources if something happens to the car in an accident that is your fault.
Compare Car Insurance Companies
Compare quotes from the top car insurance companies and save
Secured with SHA-256 Encryption
What to Do When You No Longer Need Car Insurance
There are some reasons why you might not need car insurance coverage right this moment.
If you are planning to leave the country or are going to deploy as an active-duty member of the military, then it is a good idea to tell your auto insurance company that you do not need auto insurance coverage for a very limited period of time.
Be certain, however, that you do not suspend your auto insurance coverage if you plan to drive a car at all in the U.S.
If you have an accident while not insured, you could be facing a huge financial loss and all kinds of complications in terms of state penalties and fines.
What Happens if Another Driver Does Not Have Car Insurance
Unfortunately, it is a fact of life that not all drivers obey the law when it comes to having the required car insurance. They are trying to save a few bucks by not paying an insurance premium, but they are also putting everyone else on the road at risk.
The best way to make sure that you will have protection in a car accident involving an uninsured driver is to get underinsured or uninsured motorist coverage as part of your car insurance policy.
The premium will not increase by very much at all, and you could be saving yourself thousands down the road in damage from an accident caused by a driver without insurance.
Compare quotes from the top car insurance companies and save
Secured with SHA-256 Encryption
Wrap Up on When You Need Car Insurance
If you are going to be driving a car, then you should be insured. Even if you are only driving for a short time or distance, the state law says that you still need to have coverage.
The good news is that getting car insurance is easy, and there are plenty of options to choose from. Remember that just because drivers are required to have it does not mean that all drivers are insured.
Underinsured or uninsured motorist coverage can protect you from drivers without insurance. Get the coverage you need today at the best price! Enter your zip code below to begin.