Does where you live affect car insurance?
Yes, where you live affects car insurance rates. Urban cities have more expensive rates than smaller towns due to traffic and higher accident rates. States with higher liability requirements also have higher car insurance rates. Enter your ZIP code below to find the cheapest car insurance quotes in your neighborhood.
Free Car Insurance Comparison
Compare Quotes From Top Companies and Save
Secured with SHA-256 Encryption
UPDATED: Jun 21, 2022
It's all about you. We want to help you make the right car insurance coverage choices.
Advertiser Disclosure: We strive to help you make confident car insurance decisions. Comparison shopping should be easy. We are not affiliated with any one car insurance company and cannot guarantee quotes from any single company.
Our car insurance industry partnerships don't influence our content. Our opinions are our own. To compare quotes from many different car insurance companies please enter your ZIP code on this page to use the free quote tool. The more quotes you compare, the more chances to save.
Key takeaways...
Insurance companies will always ask your zip code when giving you a quote
Every state has its own car insurance requirements
Areas that experience high traffic congestion will result in higher insurance premiums
Where you store your car plays a role in the cost of insurance
Where you live is going to impact the cost of car insurance.
Once you provide your zip code, the insurance company knows the state you live in as well as the general area.
Knowing your location will help to calculate the cost of insurance based on state requirements as well as the level of risk generated by being in a particular part of town.
If you recently relocated and need better auto insurance, compare at least three to four policies today and get the best rates for you! Enter your ZIP code above to begin!
State-Mandated Insurance Requirements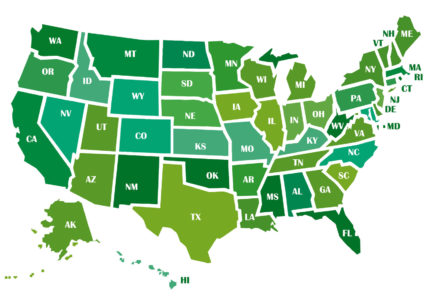 Every state issues their own minimum requirements for car insurance. Where you live will determine what you need to have for car insurance coverage.
Most states will require you to have:
Bodily injury liability
Property damage liability
Uninsured motorist coverage
The levels of liability will vary from state to state as well. Some states might only require you to have $10,000 worth of bodily injury liability while other states might require you to have $30,000.
Once you have obtained the minimum levels, it is then up to you to determine what you want to add to your coverage.
When getting online quotes, insurance companies will calculate based on state minimums, to begin with. Then there is the option to add onto the liability levels and add other coverage that might not be required, such as comprehensive and collision coverage.
Compare Car Insurance Companies
Compare quotes from the top car insurance companies and save
Secured with SHA-256 Encryption
Compare quotes from the top car insurance companies and save
Secured with SHA-256 Encryption
What Your Zip Code Tells the Insurance Companies
Your zip code is going to tell insurance companies a lot of information. In addition to identifying the state you live in, it will allow the insurance company to see the area you live in, such as a specific suburb.
Many of the traffic records are identified by zip code. Insurance companies will know how many traffic accidents and fatalities occur by zip code.
If you live in an area where there are a lot of accidents, it is likely that you will pay more on your insurance premiums.
The reason is that you are at higher risk of being involved in an accident. Even if you are a safe driver, it could still have an adverse impact on the cost of insurance.
Your zip code will be used to tell the insurance company about crime rates, too. Since your insurance will often cover you against vehicle theft and vandalism (assuming you have sufficient coverage), then the insurance company needs to calculate the likelihood of this happening.
If you live in an area with high crime rates, your insurance premium will go up as a way to compensate for the higher risk level.
Where You Store Your Car Matters
Where you live will also matter when it comes to how you store your car. Insurance companies will often ask you where you park your car.
If you live in a house with a garage, you might get a lower premium than if you were to park in a carport or on the side of the road.
The more open your car is to the elements, the higher the risk. A tree could fall on top of your car, hail could damage the roof, and people could come and break into your car.
When you are able to better secure the car, such as within a garage, it's safer. You reduce the likelihood of something happening to it, and insurance companies reward you with a lower premium.
Insurance companies are always calculating risk because they don't want to get into a situation where they have to pay out a lot of money on a claim.
If you are at risk for being involved in an accident or having your car stolen or broken into, they will have to charge a higher premium.
One of the best ways to determine risk is by looking at where you live – which is why insurance companies ask for your zip code when giving you quotes for comparison.
Not all insurance companies calculate risk in the same way. While where you live has an impact on the cost of car insurance, it is not going to result in the same premium with all insurance companies.
That's why you need to take the time to compare quotes to see which company will give you the most affordable premium.
Start comparison shopping today and find the best auto insurance rates for you! Enter your ZIP code below!
Editorial Guidelines: We are a free online resource for anyone interested in learning more about auto insurance. Our goal is to be an objective, third-party resource for everything auto insurance related. We update our site regularly, and all content is reviewed by auto insurance experts.