Utah Car Insurance (Coverage, Companies, & More)
Utah car insurance laws require every driver to carry 25/65/15 in minimum liability in order to legally drive. If you choose to drive with more coverage you may see an increase in your Utah car insurance rates. Keep insurance costs low by comparing Utah car insurance quotes online from multiple companies. Enter your ZIP code below to get started.
Free Car Insurance Comparison
Compare Quotes From Top Companies and Save
Secured with SHA-256 Encryption
UPDATED: Jun 21, 2022
It's all about you. We want to help you make the right car insurance coverage choices.
Advertiser Disclosure: We strive to help you make confident car insurance decisions. Comparison shopping should be easy. We are not affiliated with any one car insurance company and cannot guarantee quotes from any single company.
Our car insurance industry partnerships don't influence our content. Our opinions are our own. To compare quotes from many different car insurance companies please enter your ZIP code on this page to use the free quote tool. The more quotes you compare, the more chances to save.

Welcome to Utah.
Whether you call it the Salt Lake State or the Beehive State, there's a lot to love about Utah. An average of 500 inches of snowfall in the mountains near Salt Lake City every year and the state is home to five of our most beautiful national parks (Arches, Canyonlands, Zion, Bryce, and Capitol Reef), making Utah a destination for outdoor adventurers.
The state has the highest literacy rate in the nation, and its capital has more plastic surgeons per capita than any other American city.
With over 46,000 miles of Utah roadways, do you know the best car insurance for you and your family to get from Ogden to St. George?
We've created this guide to help you navigate car insurance, rules of the road, and other vehicular safety information in the great state of Utah. And we've provided this FREE comparison tool to help you find insurance quotes in your area. Get started with just a ZIP code.
Utah Car Insurance Coverage & Rates
Utah's rich history and beautiful roadways snaking through cities, mountains, and deserts, make it a great place for car enthusiasts.
Utah's Car Culture
Utahns love to drive.
Auto Alliance reports that in 2018 alone, 143,459 new cars were sold in the state. With a total population of 3.161 million, there are approximately 2.3 million cars registered with the state.
Whether you're new to Utah, or a long-time resident, it's important to know what kind of car insurance you need in the Salt Lake State.
Check out the sections below to make your search for affordable car insurance in Utah a bit easier. Or enter your ZIP code below to get started on a quote today.
Utah Minimum Coverage
Driving without minimum car insurance coverage in Utah means you risk big fines and the ability to drive at all in the state.

So how much car insurance do you need in Utah?
Utah drivers must have continuous bodily injury and property damage liability insurance, as well as personal injury protection (PIP). Personal injury protection covers medical, rehabilitation, earning loss, and funeral costs.
The state's minimum coverage levels are:
$25,000 to cover costs of injury or death to any one person in an accident
$65,000 to cover costs of injury or death to two or more people in an accident
$15,000 to cover costs of damage to property in an accident
$3,000 PIP coverage per person
Of course, this is just the minimum coverage required. Read on to explore how the better insured you are, the better prepared you will be in the case of an accident or other automobile incidents.
Forms of Financial Responsibility
What happens if you get pulled over in the Beehive State? Like almost anywhere, you have to be able to prove you have legal car insurance.
The easiest way to show proof of financial responsibility under Utah law is to get covered by an auto liability insurance policy that meets the required minimum limits ($25,000 to cover costs of injury or death to any one person in an accident; $65,000 to cover costs of injury or death to two or more people in an accident; $15,000 to cover costs of damage to property in an accident; and $3,000 PIP coverage per person).
If you get pulled over in Utah, you prove you have this insurance by providing the officer with your:
Insurance ID card,
Insurance binder, or
Insurance declaration
If you're unable to show this proof, you face a fine and possible driving suspension.
Premiums as a Percentage of Income
As of 2017, Utahns have an average credit score of 683, above the national average of 675.
In 2014, residents had an average disposable household income of $33,566, of which they spent $852.66, or 2.54 percent, on car insurance premiums.
Given a national average of 2.29 percent of income spent annually on car insurance, Utahns spend a bit more to stay legal and safe.
So, how much of your income is going to be eaten up by car insurance premiums in the Salt Lake State?
The table below illustrates residents' average disposable incomes between 2012 and 2014 as compared to the percentage of their earnings paid out in annual car insurance premiums.
Average Monthly Car Insurance Rates in UT (Liability, Collision, Comprehensive)
Your average monthly car insurance rates may not increase as much as you might think by adding additional coverage like comprehensive. Review rates for auto insurance coverage below:
The National Association of Insurance Commissioners (NAIC) provides the following averages for core car insurance elements in Utah vs. national averages:
This short video covers the basics of these different types of car insurance elements.
https://www.youtube.com/watch?v=-Zr63hTicTU&feature=youtu.be
You may want to increase the amount of insurance you carry based on a variety of factors and, as we will see, often affordable options. Read on to look into some of those factors and options.
Additional Liability
When you shop for car insurance, it's important to research a company's loss ratio, an indicator of their financial health.
But what is a loss ratio? A loss ratio is the amount companies payout vs. the number of premiums they collect.
Think of it this way: if a company spends $650 in claims for every $1,000 they receive in premium, they have a loss ratio of 65 percent.
Our research shows that a car insurer's loss ratio should ideally be between 60 and 70 percent. The table below lists the loss ratios for the state of Utah by coverage type between 2012 and 2014.
Add-ons, Endorsements, and Riders
What do you want to find when shopping for car insurance?
The best coverage at an affordable premium is likely your number-one goal. We get that, and we're here to help.
Luckily, there are a lot of cheap but powerful extras you can add to your policy to ensure you are better-covered in case of an accident or other automobile incidents.
The following is a list of coverages that you can add to the required car insurance you need in the Beehive State:
Guaranteed Auto Protection (GAP)
Personal Umbrella Policy (PUP)
Rental Reimbursement
Classic Car Insurance
Pay-As-You-Drive (Usage-Based Insurance)
Average Monthly Car Insurance Rates by Age & Gender in UT
Though Utah is not one of the six states — North Carolina, Hawaii, Massachusetts, Pennsylvania, California, and Montana — that have outlawed gender discrimination in car insurance premiums, our research shows that gender isn't a huge difference-maker in premiums across the state.
As the table below shows, however, age and marital status certainly are factors relevant to car Insurers in Utah.
Cheapest Rates by ZIP Code
Where are the most expensive car insurance rates on average in Utah?
You can find those in ZIP code 84104, an area on the west side of Salt Lake, just south of the airport running along Interstate 80.
The table below lists the highest and lowest rates according to Utah's ZIP codes.
Compare quotes from the top car insurance companies and save
Secured with SHA-256 Encryption
Best Utah Car Insurance Companies
The best car insurance company for you depends on a number of factors, from marital status to driving record to credit history.
Thus, you definitely want to consider the pros and cons of each insurer.
That's why we created this guide. For our compilation of the best car insurance companies in Utah, check out the sections below.
The Largest Companies Financial Rating
A.M. Best offers consumers the financial ratings of particular insurance companies, an indicator of that company's overall financial health.
Here are their financial ratings for the biggest insurers in Utah:
Watch this video to learn more about the importance of checking out the financial rating of your car insurance company.
Companies with Best Ratings
You might expect a large national company with zippy commercials — think geckos or cashiers named Flo — to get the best ratings for car insurance.
But J.D. Power and Associates recently ranked PEMCO the best auto insurer in Utah.
Here are their 2018 rankings for the Northwest region, which includes Utah: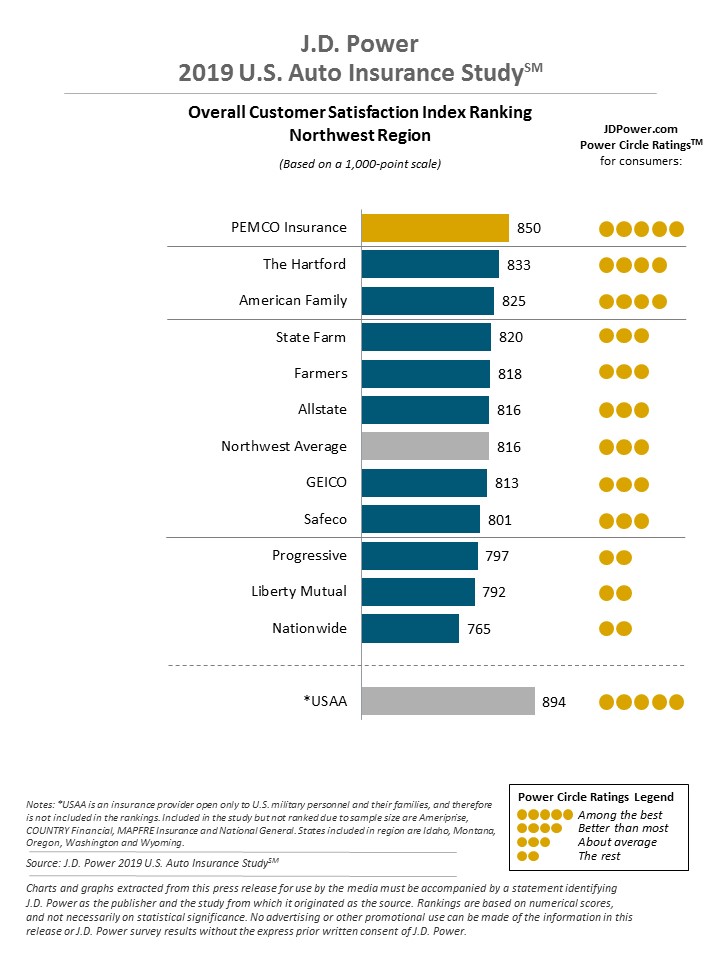 Cheapest Companies in Utah
All things considered, Geico is the cheapest car insurance company in Utah on average. (Unless you qualify for USAA, which is often ranked one of the best and cheapest car insurance providers everywhere, including Utah.)
The table below provides the cheapest insurers in Utah.
Commute Rates by Companies
Many folks don't know that the length of their commute can affect their car insurance rates.
Some insurers will raise your rates if you have a longer commute, it's important to know
Here's a list of the average premiums we found based on 10- and 25-mile commutes for the top-10 insurers in Utah:
Coverage Level Rates by Companies
The more insurance, the higher the premium, right? Often, but not always.
In Utah, a high level of coverage with Geico will only cost you a few hundred dollars a year more than the bare minimum insurance you're required to have.
More insurance equals more protection when it comes to you and your family's driving.
The table below provides average rates for low, medium, and high coverage levels for the top 10 insurance providers in the Beehive State.
This video offers some helpful advice in determining how much car insurance you actually need.
Credit History Rates by Companies
As we talked about briefly above, in 2017 Utahns had an average credit score of 683, above the national average of 675.
But did you know: your credit history is a key factor car insurance providers take into account when figuring your car insurance premium?
In Utah, for example, a poor credit history can raise your State Farm premium as much as $5,000 a year. And that's something to get salty about.
Whether you have good, fair, or poor credit, here's some information you should know about different companies in beautiful Utah:
But what potentially affects your car insurance premium even more than your credit history? Your driving record.
Driving Record Rates by Companies
Do you have a squeaky clean driving record?
Or, like many of us, do you have a few infractions or violations?
Either way, your driving record is perhaps the top item insurers take into account when calculating what it will cost to insure you.
The table below illustrates the average you can expect to pay in Utah whether you have a clean driving record, a DUI, a speeding ticket, or an accident in your past.
Largest Car Insurance Companies in Utah
Are the biggest insurance companies always the cheapest?
Not always, but they can often extend more affordable premiums to their customers because they're receiving more in annual premiums.
Think of it this way: it's almost like buying in bulk at Sam's Club or Costco.
The table below offers the top 10 auto insurers in Utah by direct premiums written, loss ratio, and market share.
Number of Foreign vs. Domestic Insurers in Utah
What's a foreign insurance company, and what's a domestic insurance company?
Unlike foreign and domestic when it comes to actual car talk, if you're talking insurance providers, you're talking about the number of in-state vs. out-of-state companies.
In Utah, there are nine domestic car insurance providers vs. 878 foreign providers operating in the state.
Utah Laws
Do you know the particular laws for Utah?
Each state has a unique set of laws, and we're here to help you navigate the insurance and driving laws of the Salt Lake State.
Here's another resource to check out, whether you're a Utah native or just passing through, the National Motorists Association guide to driving in the state.
Car Insurance Laws
As we discussed above, your minimum Utah coverage must include:
$25,000 to cover costs of injury or death to any one person in an accident
$65,000 to cover costs of injury or death to two or more people in an accident
$15,000 to cover costs of damage to property in an accident
$3,000 PIP coverage per person
And remember, these are minimums.
Your driving record, your credit history, and your typical commute might mean more comprehensive coverage will best serve you and your family.
How State Laws for Insurance are Determined
How do insurance laws get made? When it comes to car insurance state-to-state, it might not be that simple.
But, The National Association of Insurance Commissioners (NAIC) is here to help us understand. They are the American standard-setting and regulatory support organization created and governed by chief insurance regulators from across the country. They offer this great guide to understanding how insurance laws get made.
Windshield Coverage
Glass damage is the top claim car insurance companies receive across the United States.
In Utah, the law doesn't require insurers to replace or repair windshields.
But remember, windshield or glass coverage might be an easy add-on to your insurance policy, and it is included, our research shows, in most comprehensive plans.
Automobile Insurance Fraud in Utah
What is insurance fraud?
Essentially, insurance fraud is when someone tries to benefit, financially or otherwise, in the course of an insurance transaction that they would not otherwise be due. The most common type of insurance fraud? Soft fraud – the exaggeration of otherwise legitimate claims.
In Utah, insurance fraud carries some hefty penalties. The state calculates these penalties by what kind of misdemeanor or felony the fraud amounts to:
A class B misdemeanor if the value of the benefits sought or obtained is less than $500
A class A misdemeanor punishable by up to 1 year in prison and up to $2,500 in fines if the benefits sought or obtained is more than $500 but less than $1,500.
A third-degree felony punishable by up to 5 years in prison and up to $5,000 in fines if the value of the benefits sought or obtained is $1,500 or more but less than $5,000.
A second-degree felony punishable up to 15 years in prison and up to $10,000 in fines if the value of the benefits sought or obtained is $5,000 or more.
The easiest way to avoid committing insurance fraud is to always be as honest and accurate as possible when filing insurance claims.
Statute of Limitations
Did you know there's a limit on the amount of time you have to bring a lawsuit to court?
That's called a statute of limitations.
In Utah, you have 4 years to file bodily injury claims and 3 years to file property damage claims in court.
State Specific Laws
Every state has its quirks when it comes to driving and insurance laws.
For instance, in Utah, you always have the right to a trial by a jury of their peers, whether your infraction is a parking ticket or a DUI.
Again, we urge you to check out the National Motorists Association guide to driving in Utah.
Vehicle Licensing Laws
In the sections below, we'll learn more about vehicle licensing laws in the Salt Lake State.
Penalties for Driving Without Insurance
As you've read above, Utah requires all drivers to have insurance. Here are the penalties for being caught without it:
First Offense: Fine: $400 fine; license suspension until proof of insurance (maintained for three years) and $100 reinstatement fee.
Second Offense: $1,000 fine; license suspension until proof of insurance (maintained for three years) and $100 reinstatement fee.
Real ID
Federal REAL ID laws can affect your travel, especially if you're traveling by air. So it's good to know before you go.
According to Utah's Department of Public Safety, "Utah has been issuing Real ID-compliant driver licenses and identification cards since January 1, 2010."
Teen Driver Laws
In Utah, teen drivers must be at least 15 years of age to get their learner's permit. Before a teen driver can get a license or restricted license, they must meet the requirements listed in the table below.
Older Driver License Renewal Procedures
Utah's older drivers don't differ greatly in their renewal procedures from other citizens.
In Utah, everyone, no matter their age, must renew their license every five years, and it can be done online every other renewal.
For drivers 65 and over, however, you must provide proof of adequate vision at every renewal.
New Residents
Utah's Department of Public Safety provides a great guide for the state's lucky new residents.
They explain that you must:
Schedule an appointment for your visit (recommended) or walk-in at a driver license office. If you plan to walk-in for your visit you can complete the driver license application in the office, or ahead of time online.
Have a photo taken.
Submit proof of driver education, or have a valid driver's license from another state (which you will surrender upon application), or country, to avoid having to carry a learner permit for 90 days and completing the online Traffic Safety and Trends Exam.
Provide proof of identity (name and DOB.) Provide a social security card. Provide two (2) documents of Utah residence address. Visit our required documentation page for what is acceptable proof of each type of document required.
Pass the eye (vision) test.
Pass a written knowledge test and driving skills test (one or both may be required.)
Submit a nonrefundable fee of $32.00 if 21 and older; $39.00 for provisional (20 and under.)
Rules of the Road
Utah roads snake through beautiful, canyon-filled desserts and snow-capped mountains. Indeed, the state is home to some of the most beautiful drives in the country.
Knowing the rules of the state's roads will not only keep you safe, but will also keep your insurance more affordable.
In the sections below, we'll cover some key features of Utah's transportation laws.
Fault vs. No-Fault
Utah is one of only 12 states that has no-fault laws when it comes to auto insurance.
Utah's McMullin Legal Group explains that in an accident, "each party's own insurance provider pays for the initial medical bills. The victim only has a claim against the at-fault party once a statutory threshold amount has been exceeded by medical bills. In the great state of Utah, that amount is $3,000."
But remember, the more comprehensive your insurance, the better prepared you are to face accidents and other auto incidents head-on, whether or not you are found at fault.
Seat belt and car seat laws
The Utah Department of Public Safety explains that "ALL passengers must wear seat belts in all seating positions and children up to age 8 must be properly restrained in a car seat or booster seat."
A good thing to know: Utah offers a number of safety stations where you can have a nationally certified child passenger safety technician ensure your child's car or booster seat is safe and legal.
Keep Right and Move Over Laws
In Utah, you must drive on the right side of the road unless passing a slower vehicle. According to the McMullen Legal Group, vehicles must not pass or drive on the left side of the road:
When coming upon a curve in a road where the view is obstructed and it may cause danger for a driver coming in the opposite direction.
Within 100 feet of any intersection or railroad crossing
When approaching a bridge or tunnel that may also obstruct the view for drivers in either direction.
According to Utah's Highway Patrol, "Utah's Move Over Law is contained in Utah Code 41-6a-904.
Drivers approaching stationary emergency vehicles, highway maintenance vehicles or towing vehicles displaying flashing red, red & white, red and blue lights or amber lights need to slow down, provide as much space as practical to the stationary vehicles, and, if move over a lane if it's safe and clear.
This law requires drivers to move over and/or slow down when approaching stopped emergency or maintenance vehicles."
They offer this great video on the importance of moving over for emergency vehicles.
Speed Limits
Knowing the speed limit is important wherever you're driving, as our research shows that speeding is one of the easiest ways to increase your car insurance premium.
In Utah, the maximum speed limits for both cars and trucks are:
Rural Interstates: 75 mph (80 on specified segments)
Urban Interstates: 65 mph (70 on specified segments)
Other Limited Access Roads: 75 mph
Slow down to keep you and your family safe. Oh, and to keep your car insurance affordable.
Ridesharing
When it comes to taking rideshare options like Uber or Lyft, folks often find insurance liability to be murky waters.
But such companies' driver requirements are pretty clear: most rideshare services require that all their drivers carry personal car insurance policies that align or exceed the minimum coverages dictated by state law.
So don't fret if you need a lift from the airport in Salt Lake City.
Automation on the Road
According to the Insurance Institute for Highway Safety (IIHS), Utah has authorized the deployment of autonomous vehicles, though the operator must be licensed and hold minimum insurance. (They don't, however, have to be in the vehicle itself.)
Safety Laws
Now that we've gone over the proper way to insure and register yourself and your vehicle in Utah, let's cover some important information about keeping you, your family, and your vehicles safe in the Beehive State.
DUI Laws
Put simply: don't drink and drive. In 2017, 53 people died from alcohol-impaired accidents in Utah.
Generally, Utah has some of the strictest alcohol laws across the United States. For instance, Utah has a BAC (Blood Alcohol Content) limit of 0.05, lower than any other state.
The table below provides the basics of Utah's DUI laws.
And the following table provides the strict penalties for DUI conviction in Utah.
Marijuana-Impaired Driving Laws
Utah law has a zero-tolerance legal policy for THC and metabolites. Drive high in the Salt Lake State and you face the same laws applicable for driving under the influence of alcohol.
Distracted Driving Laws
No matter how old you are or what kind of license you carry, you can't use text and drive in Utah. Utahns under the age of 18 are banned from using any type of hand-held device.
Importantly, the texting ban is primarily enforced, meaning a police officer can pull you over for no other reason than sending a text.
Driving Safely in Utah
Now that you've learned some of the basic rules of the road in the great state of Utah, let's look at some key driver safety statistics.
Vehicle Theft in Utah
Utah is known for its friendliness. But that doesn't mean vehicle theft isn't a problem.
The FBI tracks vehicle theft in all states, and reports that in 2016 alone, 1,930 were stolen in Salt Lake City alone.
The table below offers the top 10 stolen vehicles in the state of Utah in 2016, including the most popular model year stolen.
Road Fatalities in Utah
According to the state's Department of Safety, 273 people were killed on Utah roadways in 2017.
In the sections below, we'll take a closer look at the types and causes of these fatalities.
Most fatal highway in Utah
US Route 89 is the most fatal highway in Utah, GeoTab reports. Route 89 basically splits the state in half, running north to south through several national parks.
Fatal Crashes by Weather Condition and Light Condition
Utah gets a lot of snow, which can be beautiful, but deadly.
Light and weather conditions are a key factor for crashes on the state's roadways.
The table below provides the number of fatal crashes by weather and light conditions across Utah in 2017.
Fatalities (All Crashes) by County
The table below provides the number of crashes by county across Utah from 2013 to 2017.
Fatalities by Person Type
Road fatalities aren't just those driving or riding in a passenger vehicle.
The table below breaks down Utah vehicle fatalities by person type from 2013 to 2017.
Fatalities by Crash Type
This table breaks down 2013-2017 vehicle fatalities by crash type across Utah.
Five-Year Trend For The Top 10 Counties
The more populous the county, the more road fatalities. This table offers a five-year trend for Utah's 10 biggest counties.
Fatalities Involving Speeding by County
Use the table below to search for the number of fatalities resulting from crashes involving speeding by county across Utah from 2013 to 2017.
Fatalities in Crashes Involving an Alcohol-Impaired Driver by County
Counties with major metros or universities are sadly more prone to fatalities in crashes involving an alcohol-impaired driver, as this searchable table illustrates for Utah from 2013 to 2017.
Teen Drinking and Driving
On average, teen drinking and driving is less of a problem in Utah than it is across the United States.
Whereas America has a national average of 1.2 teen deaths from drunk driving per 100,000 people, that rate is only 0.5 underage alcohol-related deaths per 100,000 people in Utah.
The table below offers some key stats on the state's issues surrounding teens and drunk driving.
EMS Response Time
EMS response time is largely dependent on a crash happening in an urban or rural area.
This table shows the average EMS response time for urban and rural areas of Utah, from time of the crash to EMS notification to time of the crash to hospital arrival.
Transportation in Utah
If you call Utah home, you likely live in a household with two or more vehicles, drive alone to work, and have an average commute time of 20.5 minutes each way.
Car Ownership
As DataUSA reports, two-car households make up the largest population of car owners in Utah, followed by the-car and one-car homes.
Commute Time
Utahns have relatively short commutes: only 20.5 minutes each way compared to an American average of 25.5 minutes. And just over one percent of workers have a commute of 90 minutes or more.
Commuter Transportation
Outside of Salt Lake City, commuter transportation is largely not an option in the Beehive State. About 76 percent of the workforce drives to work alone, while 10.7 percent carpool.
Has this guide helped you better plan your car insurance shopping in Utah? What part was the most helpful?
Are you ready to find the best quotes for your next insurance decision?
Before making any final decisions on your insurance company, it is important to learn as much as you can about your local insurance providers, and the coverages they offer. Call your local insurance agent to clear up any questions that you might have. Questions to consider asking include, "What is the best coverage plan for me/my family/my situation?" "What are the minimum coverage requirements in my state and what form of coverage do you recommend?" "Do you guys offer any bundle discounts if I take out both my auto insurance and home insurance with you?" and "What is the average rate of insurance quotes you guys offer?"
Before making any big insurance decisions, use our free tool to compare insurance quotes near you. It's simple, just plug in your zip code and we'll do the rest!