How much car insurance do I need in Florida?
Florida is a no-fault state, so how much car insurance you need in Florida depends on how much you want to pay out of pocket for a car accident. Florida car insurance requirements are 10/20/10 for basic liability, plus $10,000 in Personal Injury Protection. You may choose more coverage depending on the kind of vehicle you drive. Enter your ZIP code below to compare Florida car insurance quotes for free.
Compare Car Insurance Companies
Secured with SHA-256 Encryption
UPDATED: Jun 21, 2022
It's all about you. We want to help you make the right car insurance coverage choices.
Advertiser Disclosure: We strive to help you make confident car insurance decisions. Comparison shopping should be easy. We are not affiliated with any one car insurance company and cannot guarantee quotes from any single company.
Our car insurance industry partnerships don't influence our content. Our opinions are our own. To compare quotes from many different car insurance companies please enter your ZIP code on this page to use the free quote tool. The more quotes you compare, the more chances to save.
Editorial Guidelines: We are a free online resource for anyone interested in learning more about auto insurance. Our goal is to be an objective, third-party resource for everything auto insurance related. We update our site regularly, and all content is reviewed by auto insurance experts.
Here's what you need to know...
Every state has its own unique car insurance requirements
You will also need to carry liability when your vehicle is registered in Florida
In Florida, car insurance claims are paid on a no-fault system
If you live in Florida, buying car insurance is just one of the many things on your list of to-do's each year. You can either buy a policy and continue renewing every time your renewal bill comes due.
One thing that you need to know as you shop for a brand new policy or a replacement policy is that there is a difference between how much car insurance you need in Florida and how much insurance you are required to carry.
When you buy the minimum coverage requirements in Florida, you will be in compliance with the law but vulnerable to financial loss.
When you buy the amount of coverage that you need, you will have higher limits that provide asset protection and property protection.
Read this guide to building the right personalized car insurance policy in Florida and then you can get started.
Start comparing auto insurance rates now by using our FREE tool above! Enter your zip code to get started!
How much car insurance do you need in Florida?
Every state has its own unique car insurance requirements. The requirements in Florida are unique because of the type of system that the state runs on.
In Florida, car insurance claims are paid on a no-fault system.
A no-fault system is one where insurance companies do not use fault to determine which company will pay for damages.
Instead of going through the long process of investigating the claim, an insurance company will issue a payment for their own policyholders' medical expenses under their Personal Injury Protection coverage.
This is meant to speed up the process of settling claims and to reduce the number of claims that go to civil court.
While fault is not always considered, there are scenarios where fault will be used to decide which company pays for certain expenses related to an accident.
This is why you will also need to carry liability when your vehicle is registered in Florida.
Here is a breakdown of the coverage requirements for all residents who live in Florida for at least 6 months out of the year:
– Personal Injury Protection
Personal Injury Protection, which is also called No Fault or PIP insurance, is a required benefit that will pay for your medical expenses and loss of income when it is a result of a car accident.
According to the No-Fault Law in Florida, anyone who owns a vehicle that has four or more wheels must have at least $10,000 of PIP coverage.
This requirement will not only pay for immediate medical treatment, but also $5000 in death benefits, and 60 percent of lost income when disabled. You do have the option to select higher limits for additional premiums.
Compare Car Insurance Companies
Compare quotes from the top car insurance companies and save
Secured with SHA-256 Encryption
– Bodily Injury Liability
Bodily Injury Liability (BI) is required in most states but is actually optional in most cases when you live in Florida.
While BI can be considered optional, some who have caused injury in accidents in the past or have been convicted of serious driving violations are required to carry this coverage.
If convicted of DUI before 10/1/07, you must carry $10,000 per person and $20,000 per accident in BI. If convicted after this, you must have $100,000 per person and $300,000 per accident.
You should seriously consider buying this coverage for protection in serious accidents or in accidents with drivers who are from another state.
BI pays for the medical bills accrued by victims in an accident when you are at fault and take you to court.
While some waive their right to sue, when a person suffers serious injuries and you are the responsible party, they can sue you.
Having BI will pay for your court costs and for any judgments or settlements up to the limits on your policy. Even if you are not required to carry
– Property Damage Liability
A fault is taken into consideration when it comes to vehicle repairs. If you are the one to cause an accident, you are financially responsible to pay to have the property repaired or replaced.
Property includes cars, buildings, fences, poles and all other real property that you do not own. According to the state law, you must carry at least $10,000 in Property Damage Liability.
This limit applies to all of the property damaged in a single accident and not a single car or piece of property.
Since most cars being driven around certain areas in Florida are worth more than $10,000 on their own, carrying higher limits is recommended.
Compare quotes from the top car insurance companies and save
Secured with SHA-256 Encryption
How much car insurance do you need?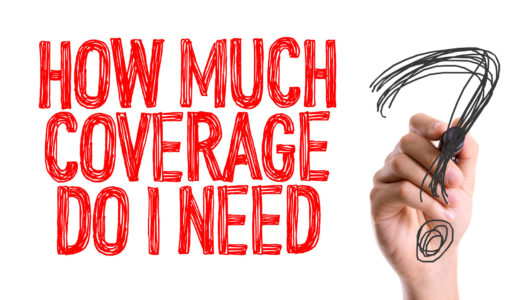 Car insurance is a very personalized product, and you need to select the right coverage options and the right coverage limits to get all of the protection that your family needs.
Not everyone needs million dollar personal liability umbrellas or property damage coverage, but knowing what is available is a must before you make an important decision.
Here is information about the coverage that you can select and the limits recommended for the average consumer:
– Extended Benefits for PIP
There are different ways to customize your required coverage options. When you are selecting PIP coverage, you can choose to carry a deductible to lower the costs for the medical coverage.
You can also choose from basic or extended wage loss benefits, extended coverage to resident relatives, and added rehabilitation benefits.
You should research all of these options before choosing the basic plans that have many restrictions.
– Raised Liability Limits
It can be very difficult to choose liability limits, especially when many claims are settled based on the no fault law. It is still important to select adequate liability limits when you cause an accident.
Most agents will recommend that you carry high limits of liability to protect if you are found legally responsible for financial losses.
You should consider having no less than $100,000 per person and $300,000 per accident in BI. You should also raise the Property Damage benefits and carry at least $100,000 per accident.
If you have a high net worth, carrying higher limits or a Personal Umbrella Policy may be more appropriate.
– Physical Damage Coverage
Not everyone needs coverage that will pay to replace or repair their car. If you are leasing or financing a car, physical damage coverage is required by the financial institution.
If your car's value is still high and you cannot replace it on your own, you need coverage even when you are not required to buy it.
Cars that are worth less than $2000 are just not valuable enough to pay the premiums for full coverage.
What the coverage actually entails is coverage for repairs that need to be made to your car when there is a covered loss.
Full coverage consists of comprehensive and collision. The usage of the phrase full coverage can be very misleading because not everything is covered.
A covered comprehensive loss is caused by a fire, theft, vandalism, riot, or other non-moving losses. A covered collision loss is caused when your car collides with another object regardless of who is at-fault.
Damages caused by an uninsured driver are also paid through collision cover when you do not have other special coverages.
– Uninsured Motorist
According to the Florida Insurance Council, about 23 percent of drivers in the state do not have insurance.
If you are in an accident with someone who is uninsured, paying medical costs and repair bills can be frustrating and financially damaging.
Uninsured Motorist Protection and Property Damage will help pay for your medical bills, physical damage repairs, and deductible if you have collision coverage.
Consider adding this on since Florida is ranked among the states with the highest rate of uninsured drivers.
You need to look past the state requirements and then sift through all of the options and possibilities to build a plan that suits you and still fits in your budget range!
Before making any final decisions on your insurance company, it is important to learn as much as you can about your local insurance providers, and the coverages they offer. Call your local insurance agent to clear up any questions that you might have. Questions to consider asking include, "What is the best coverage plan for me/my family/my situation?" "What are the minimum coverage requirements in my state and what form of coverage do you recommend?" "Do you guys offer any bundle discounts if I take out both my auto insurance and home insurance with you?" and "What is the average rate of insurance quotes you guys offer?"
Before making any big insurance decisions, use our free tool to compare insurance quotes near you. It's simple, just plug in your zip code and we'll do the rest!
If you are trying to make your decision based on price, you can start comparing rates now by entering your zip code in our FREE tool below!