How much does insurance cover in an accident?
How much car insurance covers in an accident depends on the level of coverage you have in your personal policy. For example, liability insurance will only cover damages and injuries to the other driver and vehicle while collision coverage only covers your vehicle damage in an accident. Learn more about the types of car insurance available and compare rates from local car insurance companies below in order to find a car insurance policy that covers everything you need in the event of an accident.
Compare Car Insurance Companies
Secured with SHA-256 Encryption
UPDATED: Jun 21, 2022
It's all about you. We want to help you make the right car insurance coverage choices.
Advertiser Disclosure: We strive to help you make confident car insurance decisions. Comparison shopping should be easy. We are not affiliated with any one car insurance company and cannot guarantee quotes from any single company.
Our car insurance industry partnerships don't influence our content. Our opinions are our own. To compare quotes from many different car insurance companies please enter your ZIP code on this page to use the free quote tool. The more quotes you compare, the more chances to save.
Editorial Guidelines: We are a free online resource for anyone interested in learning more about auto insurance. Our goal is to be an objective, third-party resource for everything auto insurance related. We update our site regularly, and all content is reviewed by auto insurance experts.
Key takeaways...
Bodily injury and property damage liability are required
There are state minimums that you must follow to be in compliance
You can add additional liability amounts if you choose to do so
You may also want to add additional coverage for personal injury protection, collision, and comprehensive insurance
Car insurance is required in every state except two. Even in the two states that do not require car insurance, there is a certain amount of proof of financial responsibility that is needed to show you can afford to pay for an accident if you are at fault.
Accidents are very expensive to pay for and can also land you in court if the injured parties decide to sue you for damages.
Make sure you have coverage in place before you have an accident. Enter your zip code above to compare car insurance quotes.
Accident Coverage
The primary purpose of car insurance is to cover car accidents.
The amount of your accident coverage will depend upon the amount of insurance that you purchase when you take out your policy.
Minimum requirements vary for different states. You can find out what your minimums are by going to this state map and reading up on the insurance regulations for your state of residence.
Compare quotes from the top car insurance companies and save
Secured with SHA-256 Encryption
Fault vs. No-Fault States
There is a difference between fault and no-fault states. With fault states, the insurance company of the party that is at fault has to pay for the damages. In a no-fault state, neither party pays for the other's damages even if it is their fault. This can be both good and bad.
There is no immediate payment required by the offending party's insurance, but it also opens the door for additional personal injury lawsuits.
About Personal Injury Protection
Personal injury protection can be purchased through your insurance company if you think you may have a risk for this type of lawsuit or if you live in a "no-fault" state.
Personal injury protection (PIP) is an optional coverage that covers the additional injuries of others as well as for yourself. This coverage can also include lost wages or medical coverage that you need for your injuries after an accident.
Most of these types of coverages are optional, and your representative may not mention them. However, if you fill out an online insurance application form, you should see these options within your policy choices that you decide on when you take out a policy.
If you are not sure what your current insurance policy covers, you should study your existing policy first. See what it includes before deciding what actions you should take to increase your coverage.
Compare Car Insurance Companies
Compare quotes from the top car insurance companies and save
Secured with SHA-256 Encryption
A Good Rule of Thumb
A good rule of thumb when considering insurance amounts is to think about the amount of insurance you can afford and the risk you have.
You need enough insurance to cover the various types of risks you have as a driver to minimize the chances of paying from your pocket. But you should only purchase as much insurance as you can afford.
You don't want to risk having to come off of your policy because you run into a month when you cannot afford it.
The general rule of all insurance is that "some is better than none." But you should examine and evaluate your personal need to see what is best for your individual situation.
Compare quotes from the top car insurance companies and save
Secured with SHA-256 Encryption
What amounts do you want?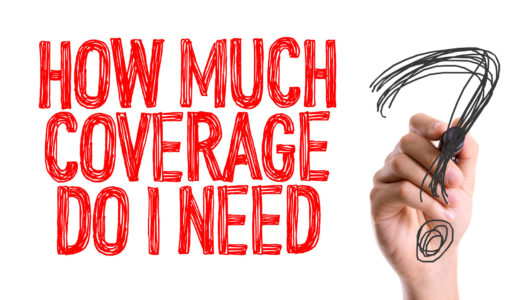 The amount that your insurance covers in an accident is up to you. While you are required to meet the basic requirements of your state according to the insurance laws, you can also add additional insurance coverage amounts to cover additional costs if you choose to do so.
When trying to decide how much coverage to include in your policy, you should consider the risk that you have as a driver.
One question to ask yourself is how many passengers you take with you in your car and how often. If you take others in the car with you on a regular basis, your risk is greater than if you only drive by yourself.
Consider Your Risk
Consider what might happen if someone in your car is injured. Your bodily injury liability covers injuries to people within your vehicle as well as injured received by other drivers and their passengers. Look over the minimums in your state and decide if it is enough.
There is no way to tell for sure that the amounts that you have will cover any hypothetical accident. You never know the extent of an accident or the injuries or damage involved until it happens. But you can make an educated guess based on your level of risk.
In addition to adding to your liability amounts, you may want to add collision coverage in the amount that you think you might need to repair your vehicle.
Remember that liability only covers your legal liability to others. To take care of your vehicle, you need collision for accidents and comprehensive coverage for other situations.
What do collision and comprehensive cover?
Collision insurance covers damages that are a result of a car accident. Collision pays for damages to your vehicle based on a deductible that you must meet before insurance starts to pay.
Comprehensive insurance covers incidents that are not the result of an accident. Examples include:
Theft – Theft is not covered by your accident insurance coverage. Therefore, you have to add comprehensive insurance to be paid if your car is stolen. If you live in a high crime area or have to park your car in a dangerous area, you should add comprehensive insurance.
Fire, hail, flood, or other acts of nature – Acts of nature are unpredictable weather events that can damage or destroy your vehicle.
Vandalism – Vandalism is an act of violence against the property of others. Any act of vandalism is a crime and should be reported, just as theft and other crimes should be reported.
Falling objects – Falling objects can damage your vehicle while it is stored in a garage or while you're driving it on the road.
As long as you have liability, you are within the state mandates. But carrying collision, comprehensive insurance, and other optional coverage like PIP insurance, medical coverage, and others can give you added peace of mind.
Talk to your insurance representative to see if adding some of these options is a good idea for you.
Compare quotes from the top car insurance companies and save
Secured with SHA-256 Encryption
Changing Policies and Shopping for Coverage
It is important that you know how much coverage you have for accidents as well as other situations. Find out what your policy covers if you do not know and shop and compare other policies to see if you should add more insurance to your policy.
It's also a good idea to compare other companies' policies to your current company to see if you are getting the best deal for your money.
Only by comparing three or more companies and policies can you say that you have the best policy for your needs. A representative can assess your situation, recommend changes, and show you your options.
Get a free quote and then have them help you custom-create a policy that perfectly fits your risks and lifestyle. Enter your zip code below to compare quotes today!
Once you have decided on an insurance policy, stick with it and keep your driving record free of traffic violations to maximize your savings.