Car Insurance for Active-Duty Military
Car insurance for active-duty military is unique in the fact that drivers can have their cars registered in their home state no matter where they are currently stationed. Auto insurance for active-duty military may also qualify for low-mileage discounts if drivers are deployed and won't be driving for long periods of time. Refer to our guide to learn more about car insurance coverage for active-duty military and compare car insurance quotes for free with our comparison tool below.
Compare Car Insurance Companies
Secured with SHA-256 Encryption
UPDATED: Jun 21, 2022
It's all about you. We want to help you make the right car insurance coverage choices.
Advertiser Disclosure: We strive to help you make confident car insurance decisions. Comparison shopping should be easy. We are not affiliated with any one car insurance company and cannot guarantee quotes from any single company.
Our car insurance industry partnerships don't influence our content. Our opinions are our own. To compare quotes from many different car insurance companies please enter your ZIP code on this page to use the free quote tool. The more quotes you compare, the more chances to save.
Editorial Guidelines: We are a free online resource for anyone interested in learning more about auto insurance. Our goal is to be an objective, third-party resource for everything auto insurance related. We update our site regularly, and all content is reviewed by auto insurance experts.
Key takeaways...
Service members move frequently, so they need a plan that can follow them around the country
Cars that are stored while members are deployed may still require some level of coverage
Military personnel are typically allowed to keep their registration from their home states regardless of where they're stationed
Military personnel have special needs when it comes to their auto insurance. Unlike civilian jobs where people can refuse a transfer, service members don't have this option.
They can move all over the globe, so they need to work with a company that understands their situation and needs.
By shopping around for a company that's ready to cater to service members, you can save money and get the protections that you need.
If you are in the military and are looking for better auto insurance, start comparison shopping today by entering your ZIP code above!
Companies Must Be Licensed in Each State of Service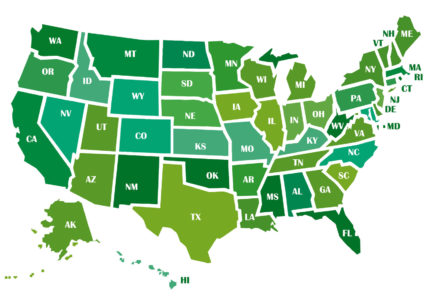 Before a company can offer insurance services in any given state, they must be licensed in that state. With this license, they agree to be held to the standards set in place by the governing bodies of that state.
Failure to comply can result in license suspension or even full revocation. States may also levy fines for regulatory violations committed by any given company.
In a world where major names dominate the market, it's easy to forget that there are regional carriers located throughout the nation. These carriers may only be licensed in a handful of states.
In the year 2000, there were 300 companies that lost their licenses or had them suspended.
When comparing different insurance plans, you will look at companies that offer services in the state you currently reside in. If there's a chance that you will move to another area, then you may want to focus on companies that are also licensed in that region.
Military personnel are subject to relocation at any time, and they can be moved to the other side of the country or the globe. Most military members are encouraged to sign up with companies who are licensed across all 50 states.
It's also possible that you'll have one or more tours overseas. If you're going to a calm region like Germany or Japan, then you can take your car with you.
Some insurance companies have programs specifically for their customers who move overseas for a few years, or your provider may have a relationship with another insurer that can help you save a little money.
Insurance overseas is more expensive, but you can still save by shopping around. If the company you're currently with doesn't offer this service, then check the rates with an agency that does.
When it's time for an overseas deployment, you'll already have your insurance company in place and can simplify the process.
Compare quotes from the top car insurance companies and save
Secured with SHA-256 Encryption
Registration Won't Match Insurance
The military moves personnel around based on specialties and needs. Someone stationed in Oklahoma the first year can easily wind up in Hawaii or California the following year.
To ease the burden on our service members, they're allowed to maintain their license and registration from their home state.
They still have to provide the insurance companies with their current home address for determining rates.
A company that routinely insures military members will understand this exemption and will be able to accommodate them. They may also have special programs in place for people who are going on deployment and will be putting their car in storage.
Compare Car Insurance Companies
Compare quotes from the top car insurance companies and save
Secured with SHA-256 Encryption
Tips for Saving Money on Car Insurance for Active-Duty Military
If you're going to be out at sea for six months and your car will be parked, there's no sense in paying for full coverage. However, you cannot just let the insurance lapse on a registered car.
The good news is that insurance companies who cater to military members have programs designed to meet this unique situation. You can:
Continue coverage for other drivers who share the car and just remove your name from the plan temporarily
Suspend the coverage on a car while you're on deployment
Go with lower coverage programs that will keep the car protected while still saving you money
You can also shop around in order to lower your insurance bill. Many companies offer discounts for military personnel, and some are focused on meeting the needs of service members.
When you shop around, you can learn more about the different programs that are available, what companies will charge, and how they can help you save.
Early Renewals Should Be an Option
Most insurance companies give you a specific time frame for renewing the plan, but this may not work when you're deployed. If you're at a remote duty station, then you may not be able to get to a computer or phone to make the payment during this pre-set period.
However, you can shop around for a company that will work with your schedule. Companies that cater to active-duty personnel will make certain exceptions to better accommodate these clients, including:
Suspending certain coverages during periods of deployment
Allowing policies to be renewed early
Setting up automatic bank drafts to payments will be made on time every month
When you renew the policy before your deployment, you'll spare yourself the headache later. With your insurance in place for the coming six months, you won't have to worry about a looming deadline, and you can focus on the job at hand.
Compare quotes from the top car insurance companies and save
Secured with SHA-256 Encryption
Saving on Military Insurance
As a service member, you'll be relieved to know that there are ways to save on your auto policy. The same discounts that apply to traditional policies can also be applied to yours, including:
Good driver savings
Multiple policy or multi-vehicle discounts
Low mileage plans
Good student discounts for teens
You may be able to command better premiums if you have a good credit score. Keep up with the score so that you won't have to worry about rising rates when you decide to change insurance plans.
You can also negotiate lower rates by making some changes to your plan. Higher deductibles typically carry lower rates, and you can drop additional coverages like rental reimbursement to get your premiums a little lower.
Take the time to shop around before making a final decision.
If you decide to go with regional carriers, then be prepared to shop for an entirely new plan every time you move to a different state.
On the other hand, you can choose to go with a large carrier who can even handle your insurance needs when you're deployed overseas. By shopping around, you can find lower rates while still getting the service that you deserve.
Start comparison shopping today for the best auto insurance rates out there for military personnel! Enter your ZIP code below to begin!