Car Insurance for Non-Drivers
State Farm, GEICO, and Nationwide all offer car insurance for non-drivers. Non-drivers is a term used to describe policyholders who don't own a vehicle but may borrow a friend's car or rent a car to drive. Standard car insurance doesn't always cover non-owners, so refer to this guide to learn more about car insurance for non-drivers and compare rates for free.
Compare Car Insurance Companies
Secured with SHA-256 Encryption
UPDATED: Sep 27, 2020
It's all about you. We want to help you make the right car insurance coverage choices.
Advertiser Disclosure: We strive to help you make confident car insurance decisions. Comparison shopping should be easy. We are not affiliated with any one car insurance company and cannot guarantee quotes from any single company.
Our car insurance industry partnerships don't influence our content. Our opinions are our own. To compare quotes from many different car insurance companies please enter your ZIP code on this page to use the free quote tool. The more quotes you compare, the more chances to save.
Editorial Guidelines: We are a free online resource for anyone interested in learning more about auto insurance. Our goal is to be an objective, third-party resource for everything auto insurance related. We update our site regularly, and all content is reviewed by auto insurance experts.
Key takeaways...
Non-car owners are still responsible for having adequate state liability coverage
If you drive others' cars, your insurance may not cover this
The insurance follows the car, not the driver
Know your rights and follow the law to avoid penalties and out-of-pocket expenses
At first glance, it may seem silly or even comical to ask the question about auto insurance for non-drivers. After all, what does someone who doesn't own a car need with auto insurance? But when you think about it, you come to realize that non-car owners still drive.
They just don't own a car. They still have to get around to places like work, errands, and other locations to do what they want or need to do.
So what we are talking about is finding insurance for non-car owners, not non-drivers. Those people who do not own a car but who still drive get around different ways:
Rentals – Rental cars are the main way that individuals get around when traveling in a new area. They may drive their rental cars to various business activities, or they may use the rentals for personal use.
Carpooling – This is another way that people who are non-car owners get around. They may bum a ride with co-workers, a boss, or their friends. Whatever the case, they get around by sharing rides with other people as a passenger to get to where they need to be.
Taxis – Another way people get around when they do not have their own car is with a taxi. This can become quite costly, but the good thing about a taxi is that you don't need insurance if you are the passenger. The taxi companies pay for their drivers' insurance to protect themselves from liabilities.
Friends' cars – Perhaps the most common way that people get around who do not own a car is by borrowing their friends' cars. The problem with this is that the insurance follows the car, not the driver, in most cases.
Compare car insurance companies today to make sure you have the best rate for your unique coverage needs.
Know Your State Rules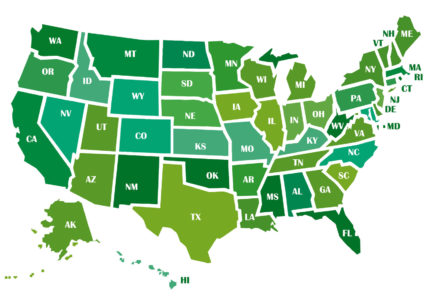 It is important that you know what your state insurance laws are regarding insurance. You need to know whether certain coverages follow the driver or the car, as well as the different types of coverage that you are required to carry within that state.
In every state except two (New Hampshire and Virginia), you have an obligation to carry car insurance at all times.
The types of coverage that are needed in these forty-eight states are:
Bodily Injury Liability
Liability coverage is required in every state that requires auto insurance among car owners. Liability covers both bodily injury liability for individual incidents, as well as the entire total of injuries sustained in an auto accident.
The litmus test for legal liability is whether it was your fault in an accident. In no-fault states, the person's individual insurance will pay regardless of fault. In fault states, the liability solely rests on the shoulders of the person at fault.
Property Damage Liability
Like bodily injury liability, property damage liability is designed to protect the driver from having to pay out-of-pocket for damages they caused in an accident.
The list of state-by-state insurance requirements for various coverage types is listed here.
Compare quotes from the top car insurance companies and save
Secured with SHA-256 Encryption
Optional Coverages You May Need
Remember that just following the law for the mandatory requirements may not be enough. If you are a non-car owner you can still get insurance to cover the times that you drive others' cars, use a rental car, or other rental situation.
The following companies offer car insurance to non-car owners:
State Farm Insurance – State Farm offers a variety of non-car owner insurance products. Your eligibility is determined on a case-by-case basis.
Geico – Geico offers non-owner insurance for people who use rental cars. This coverage is limited to liability insurance. But feel free to ask if they offer any other type of coverage for non-car owners.
Nationwide – Nationwide offers non-car owner insurance that can be purchased either locally from a local agent or over the phone. Online quotes are not available for this type of insurance. Contact a representative to find the best options.
There may be other car insurance companies that offer car insurance to non-owners. Shop around and ask questions when you compare the various policies to find out who offers non-car owner insurance.
The three companies listed above all offer some types of insurance, mostly liability, for non-car owners. If you want other optional coverages, you may have to do your homework to determine what may be available for you.
Compare Car Insurance Companies
Compare quotes from the top car insurance companies and save
Secured with SHA-256 Encryption
Non-Car Owner: Circumstances
Why would someone be a non-car owner, to begin with? There are some reasons for this including:
Drivers' license suspension – If you have lost your license due to too many traffic violations or other situations, contact a criminal defense attorney to get your driving privileges restored as soon as possible.
Frequent renter – Even if you do own a car but frequently rent cars for business or other purposes, you may need to secure some additional non-car owner insurance.
Car sharing or carpooling – People who often share others' cars or ride with friends or associates will want to get non-car owners' insurance to cover the times you are carpooling. Your regular insurance will not cover this in most cases.
Borrow others' car often – If you borrow others' cars often you may need this type of insurance to cover the times you are using someone else's car.
Sometimes people are between cars, shopping for a new car, or their car has been totaled, and they cannot afford to get it fixed.
There are numerous reasons that someone may need non-car owners' insurance but don't assume that you are covered just because the person whose car you are borrowing says they have insurance.
That's why we try to inform you on this blog regularly so that you will know the importance of knowing the laws that apply to you and how to avoid paying large fines or losing your driving privileges altogether.
Tips for Finding Car Insurance for Non-Car Owners
If you are between cars or have to borrow others' cars for any particular reason, keep in mind that you are still responsible for making sure you have adequate coverage.
You are required to follow the state laws regarding the amounts and types of liability insurance.
Also, you may want to add other coverages such as medical coverage or collision and comprehensive insurance to protect you from other unforeseen situations.
Here are a few tips to follow when you are in this situation to protect yourself from having to pay out-of-pocket expenses for accidents or mishaps.
Check your state requirements before purchasing a policy.
Find out if your current insurance covers your rental car use or the times when you are driving another car.
See if you can get an add-on policy for when you carpool or use others' cars.
Do your homework by comparing rates and ask the right questions.
Doing a little research now can save you a big headache later. Remember, you can get insurance if you're between cars so check around and compare companies and policies to find the best one for your needs. And drive safely, no matter whose car you are in!
Compare car insurance quotes for free today! Enter your zip code below to get started.