Does car insurance cover a bike accident?
There are certain situations where car insurance will cover a bike accident, including when you hit a cyclist with your vehicle or when you're hit by a car while riding your bike. If you get into an accident on a bike and no vehicle is involved, you may have to file a claim on your homeowners or renters insurance to pay for damages and medical payments. Scroll down to learn more about when car insurance covers bike accidents.
Free Car Insurance Comparison
Compare Quotes From Top Companies and Save
Secured with SHA-256 Encryption
UPDATED: Jun 21, 2022
It's all about you. We want to help you make the right car insurance coverage choices.
Advertiser Disclosure: We strive to help you make confident car insurance decisions. Comparison shopping should be easy. We are not affiliated with any one car insurance company and cannot guarantee quotes from any single company.
Our car insurance industry partnerships don't influence our content. Our opinions are our own. To compare quotes from many different car insurance companies please enter your ZIP code on this page to use the free quote tool. The more quotes you compare, the more chances to save.
Key takeaways...
If you're riding a bike and you cause an accident, your auto insurance won't pay for claims made against you
Instead of filing the liability claim against your auto policy, you'll have to file a claim against your home insurance
If you're driving your vehicle and you're negligent for injuries to a cyclist, your Bodily Injury coverage will pay
If you were the cyclist in the bike accident, your own auto insurance may pay for injuries under Medical Payments
Damage to your bike won't be covered under your insurance but it will be covered under your home policy
While only 11 percent of bike accidents involved a collision with a motor vehicle, an astounding 45 percent of those bike accidents take place in intersections.
While taking the proper safety precautions can dramatically reduce the likelihood that a cyclist will get into a collision, you can't control the drivers, cyclists, and pedestrians who you're sharing the road with.
If you lose control of your bike or you lose a battle with a car making a right on red, there's no doubt that you could be injured because of the collision.
Having a helmet on can protect yourself from head injuries, but the rest of a cyclist's body is exposed. Acute trauma to the upper and lower extremities is common.
That's why you need to know the legal rules of liability when you're involved in a bike accident and how your injuries are covered.
Have you been involved recently in a car and bike accident and need better coverage? Compare at least three to four policies today to find the best auto insurance rates for you! Enter your ZIP code above!
Common Injuries after a Bike Accident
Riding in vehicular traffic is much riskier than driving on trails and bike paths when it comes to injury.
According to data collected by the Center for Disease Control, about 23,000 cyclists are admitted to the hospital for injury each year which results in costs of around eight billion dollars for treatment and care.
Most bike accident injuries are sustained when a cyclist makes contact with the ground after they fall off their bike or are knocked off. While a rider can sustain virtually any type of injury from the fall, especially when falling at higher speed, some are more common than others.
Here are some of the injuries that are most often seen by personal injury lawyers who specialize in seeking compensation for victims of bike accidents:
Broken and fractured wrist bones when riders attempt to break their fall
Head trauma when the head hits the ground
Spinal cord injuries from jerking movements when the body hits the pavement
Neck injuries and nerve damage
Ruptured discs from the pressure on the spine
Compare quotes from the top car insurance companies and save
Secured with SHA-256 Encryption
If you're in a bike accident, who is at fault?
Cyclists have to follow the rules of the road when they're riding in areas where there are both pedestrians and vehicular traffic. The laws are put in place to prevent unnecessary accidents that can be avoided.
Just like drivers, all cyclists are held to a standard where they have to obey the law and still ride defensively at all times.
Since there are legal requirements on both sides, it's possible for cyclists to be at fault for accidents involving other cyclists, pedestrians, and even motor vehicles.
Auto insurance carriers will investigate a claim, if the incident involves a car, to allocate fault. If there's no car involved, the property insurer will still examine each side of the story to see if their insured is negligent or not.
Compare Car Insurance Companies
Compare quotes from the top car insurance companies and save
Secured with SHA-256 Encryption
If you're in a bike accident with a motor vehicle, who pays?
If you decide that you want to cross the street unexpectedly or you lose control of your bike and run right into the side of a car, you could be held responsible for the bike accident.
It's up to the owner of the car to file a claim with their auto insurance carrier. Once the claim is filed, the insurer will investigate the incident to allocate fault.
If in fact, you are deemed to be negligent for the collision because of the statements that you've made and the evidence presented, the insurer will attempt to collect from the cyclist's insurance.
Unfortunately, your auto policy won't pay when the accident you're in doesn't involve the use of a motor vehicle. Instead, you'll have to use the coverage you have under your property insurance.
How much coverage do you have under your property insurance?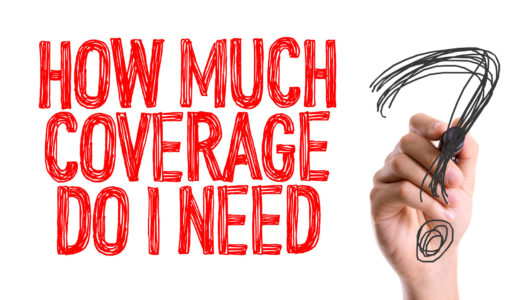 If you have a homeowner's insurance policy or a renter's policy, you will have protection for a scenario where you or a household member causes injuries in a bike accident.
The coverage under the policy extends to protect you against claims made and lawsuits even when the incident is off of your property.
If you're not sure how much coverage you have under your existing insurance, you can find your declarations page and look at the Personal Liability section of the home policy.
The typical policy includes $100,000 of liability coverage, but you could also increase the limits. The limit has to cover both the injury portion and the damage portion of the claim.
Compare quotes from the top car insurance companies and save
Secured with SHA-256 Encryption
What happens if you're injured on your bike?
If you're injured or your bike is damaged, how that is handled will depend on the circumstances surrounding the accident.
When you're the cyclist and the driver of the automobile is clearly at fault, you can file a claim to seek compensation for your damages from the driver's auto insurance company.
Here's how the auto policy will pay:
Bodily Injury Liability – Will pay for your medical bills, lost of income, and pain and suffering if you're injured
Property Damage Liability – Will pay to replace your bike, belongings you carried, your protective gear, and your clothing if destroyed
Is there any coverage for you if you're at-fault and injured?
If you were the cyclist in the accident and you were at-fault, you still have to worry about how your own medical bills will be covered.
Your medical insurance provider might cover your bills, but there's a chance some of the treatments could require a huge co-pay or they could be denied entirely.
You can't file a claim against your auto insurance policy for damage to your bike, but you might be able to file a claim against your policy to help you pay for your treatment.
What many people don't know is that their medical payments coverage under their insurance pays for injuries from any type of auto-related accident, which means that you could be a pedestrian, a cyclist, or a driver.
Best of all, it doesn't matter who was at fault, the coverage still pays.
Your auto insurance could wind up paying for a bike accident, even when you are the one riding the bike.
It's crucial that you have sufficient coverage under your property insurance and your auto policy as well. Make sure you get quotes for a full coverage auto policy online, find the best deal, and apply for your coverage all at the same time.
Start comparing auto insurance quotes today and get the best deal by entering your ZIP code below!
Editorial Guidelines: We are a free online resource for anyone interested in learning more about auto insurance. Our goal is to be an objective, third-party resource for everything auto insurance related. We update our site regularly, and all content is reviewed by auto insurance experts.