Is it illegal to drive without car insurance?
It is illegal to drive without car insurance in every state except Virginia and New Hampshire. Virginia and New Hampshire require drivers to prove they have the financial responsibility to cover the costs of an accident or collision if they choose not to have car insurance coverage. If you can't afford it, you must purchase a car insurance policy. Even though it's illegal to drive without auto insurance, an estimated 12 percent of drivers on the road today are uninsured.
Compare Car Insurance Companies
Secured with SHA-256 Encryption
UPDATED: Aug 12, 2021
It's all about you. We want to help you make the right car insurance coverage choices.
Advertiser Disclosure: We strive to help you make confident car insurance decisions. Comparison shopping should be easy. We are not affiliated with any one car insurance company and cannot guarantee quotes from any single company.
Our car insurance industry partnerships don't influence our content. Our opinions are our own. To compare quotes from many different car insurance companies please enter your ZIP code on this page to use the free quote tool. The more quotes you compare, the more chances to save.
Editorial Guidelines: We are a free online resource for anyone interested in learning more about auto insurance. Our goal is to be an objective, third-party resource for everything auto insurance related. We update our site regularly, and all content is reviewed by auto insurance experts.
Here's what you need to know...
In all but two states, vehicle owners are required by law to purchase and continuously carry a minimum amount of auto insurance
The two states where auto insurance is deemed optional are Virginia and New Hampshire
Typically, in states that operate under a fault-based insurance system, drivers must carry at third-party liability insurance
In states that operate under a modified no-fault system, all drivers must carry Personal Injury Protection and Property Damage Liability at a minimum
The penalties for driving without insurance vary by state. Some states charge fines and others require that offenders complete community service
Owning a car can get expensive. Not only do you have to save money to purchase a reliable car, but you also have to pay recurring fees for things like maintenance and gas.
One expense that you cannot overlook as you shop for the perfect car is the cost to buy auto insurance.
In virtually all states, you are legally required to carry auto insurance when you own a vehicle that's registered in your name. If you don't carry auto insurance, you are violating the law and are guilty of both a moving violation and a misdemeanor.
These potential violations are why it is so important to learn the law and to compare auto insurance rates before you choose a policy.
You can take the first step today and enter your zip code into our FREE comparison tool!
Auto Insurance Requirements Vary by State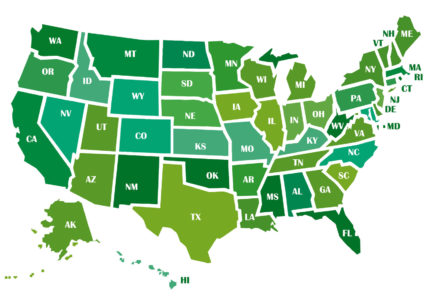 In 1945, the McCarran-Ferguson Act was passed to give the states the authority to regulate insurance business conducted within the state.
Since every state is responsible for regulating auto insurance companies, insurance requirements vary from state to state.
Compare quotes from the top car insurance companies and save
Secured with SHA-256 Encryption
What is the minimum amount of insurance that is required by law?
Insurance requirements vary, but some types of coverage are required in every state. The coverage that's required depends on the type of insurance system that the state operates under.
It is important to understand what a basic auto insurance policy before you ever choose the bare minimums when you're getting auto insurance quotes.
What type of insurance is required in a tort state?
Tort states are states that have systems that say that someone who's responsible for property damage and injuries is responsible for compensating the victim for their damages.
Parties in tort states are also free to sue for pain and suffering when they are injured in a vehicle accident.
A majority of states operate under full or limited tort law. In fact, all but 12 states have a fault-based insurance system in place.
In these states, you must carry third-party coverage to help pay for the damages that you cause to others. Here are basic requirements:
– Bodily Injury Liability
Bodily Injury Liability (BI) is a mandatory coverage that pays for the expenses that someone else incurs when they are injured in an accident that you're at fault for.
The coverage will pay for medical transport, medical treatments, and pain and suffering judgments up to the limits that you carry on your policy.
Compare Car Insurance Companies
Compare quotes from the top car insurance companies and save
Secured with SHA-256 Encryption
– Property Damage Liability
Property Damage Liability (PD) is a mandatory form of third-party coverage that will pay to repair property that someone else owns when you are in a car accident.
Property includes cars, fences, gates, buildings, lampposts, benches and more. Your policy will only pay when you are 51 percent or more at fault for the crash.
What type of insurance is required in a no-fault state?
Twelve states in the country operate under some form of modified no-fault insurance system.
A no-fault system is one that limits a victim's right to sue for pain and suffering when they suffer a loss in an accident.
Instead of filing a claim for third-party benefits, every driver must carry their own medical coverage.
If you live in a no-fault state, you are required to carry Personal Injury Protection coverage. A first-party coverage pays for your expenses and the expenses incurred by your resident household members and your passengers.
Here are some of the benefits that are included in Personal Injury Protection are:
Necessary medical costs for treatment and hospitalizations
A percentage of your lost income
Death benefits and funeral expenses if someone dies after a crash
Rehabilitation expenses
A limited amount of money for replacement services if you need a housekeeper, pet sitter or other service providers
Compare quotes from the top car insurance companies and save
Secured with SHA-256 Encryption
What other types of insurance are required?
Liability coverage and no-fault coverage are required by law, but some states have more broad requirements than others.
It is common for states to require vehicle owners to carry Uninsured Motorist Protection in states where there is a high rate of drivers without insurance. Some states also require at least $1000 in Medical Payments coverage.
Do you have to carry insurance if you're driving a non-owned vehicle?
State laws say that vehicle owners must buy insurance and maintain it. The law doesn't say that someone who's driving a vehicle that they don't own has to carry insurance.
If you don't have an insurable interest in the vehicle that you're driving, you're not legally required under state law to cover it.
What happens if you drive a vehicle that you don't own?
If you're driving a friend's car, it's your responsibility to ask the owner of the car whether or not the car is insured. You will be covered as a driver who's been given permission to drive the car as long as you don't live in the home and you're not specially excluded as a driver under the policy provisions.
Personal auto insurance policies have a provision that says liability insurance will follow the car even when an unlisted driver is driving it.
The only time that liability insurance won't follow the car is when the driver doesn't fit permissive user status, and the driver doesn't have their own nonowner's liability insurance.
Compare quotes from the top car insurance companies and save
Secured with SHA-256 Encryption
How can you buy coverage for protection if you don't own a car?
If you don't own a vehicle, you should consider buying a specialty insurance policy just for people who drive borrowed and rented cars. This specialty insurance is called a nonowner's car insurance policy.
It provides you with third-party liability protection and medical payments coverage. Some benefits of a nonowner's policy includes:
Asset protection if you are sued for damages following an at-fault accident
Protection if you drive a borrowed car and later find out the insurer won't provide coverage since you weren't a listed driver
More affordable coverage for rented vehicles if you rent vehicles often
Satisfy SR-22 requirements if you've been ordered to carry continuous insurance
Get credit for having insurance if you plan to buy a car in the future
What are the penalties for driving without insurance?
Insurance might seem costly when you're shopping around for an affordable quote, but the penalties for driving without insurance can be much more costly than buying insurance.
State officials take insurance violations very seriously, especially because offenders put others at risk on a daily basis. Some of the penalties you might face are:
Fines for being cited by law enforcement
Fees for attending court
Suspension of your driver license for 90 days
Suspension of your registration
Reinstatement fees for your license and your registration
Mandatory community service
Vehicle impound
Requirement to file an SR-22 for up to three years
A misdemeanor conviction that can affect your ability to get a professional license or a government job
If you're buying a car, it's your duty as a consumer to shop around for auto insurance so that you can find an affordable rate. The best way to find a cheap price is to get at least three to five insurance quotes.
Before making any final decisions on your insurance company, it is important to learn as much as you can about your local insurance providers, and the coverages they offer. Call your local insurance agent to clear up any questions that you might have. Questions to consider asking include, "What is the best coverage plan for me/my family/my situation?" "What are the minimum coverage requirements in my state and what form of coverage do you recommend?" "Do you guys offer any bundle discounts if I take out both my auto insurance and home insurance with you?" and "What is the average rate of insurance quotes you guys offer?"
Before making any big insurance decisions, use our free tool to compare insurance quotes near you. It's simple, just plug in your zip code and we'll do the rest!
If you're on a mission to find cheap quotes in a limited amount of time, use our FREE online rate comparison tool and find a policy that offers protection and that's still affordable.