The Most Expensive Types of Car Insurance
The three basic types of car insurance are liability, collision, and comprehensive coverage. Drivers are required to have liability coverage in every state, and liability alone can be extremely affordable each month. Collision and comprehensive insurance are optional. Collision coverage ends up being the most expensive type of car insurance to carry, but you can find cheap rates when you comparison shop online. Enter your ZIP code below to get started.
Free Car Insurance Comparison
Compare Quotes From Top Companies and Save
Secured with SHA-256 Encryption
UPDATED: Jun 21, 2022
It's all about you. We want to help you make the right car insurance coverage choices.
Advertiser Disclosure: We strive to help you make confident car insurance decisions. Comparison shopping should be easy. We are not affiliated with any one car insurance company and cannot guarantee quotes from any single company.
Our car insurance industry partnerships don't influence our content. Our opinions are our own. To compare quotes from many different car insurance companies please enter your ZIP code on this page to use the free quote tool. The more quotes you compare, the more chances to save.
Key takeaways...
The three most expensive types of auto insurance is collision, comprehensive, and liability
Out of the three, keep in mind that in most states, liability insurance is mandatory
Ultimately, the cost of your car insurance is determined by several factors
But there are multiple ways that you can save if you're willing to do some research
The most expensive type of auto insurance coverage is usually collision. This covers the damage to or replacement of your car if you're involved in a collision generally with another car. If you look at what each insurance types covers, you might expect comprehensive coverage to be pricier. It's expensive, but generally a fraction of your collision premium.
Depending on your driving history and limits, liability can be expensive. States require coverage that generally covers small accidents with moderately priced cars. If you get in an accident with a more expensive car or more serious damage, you could end up with much larger bills. If you don't have enough liability insurance, the other driver could still sue you for the difference in costly car repairs or medical bills.
In reality, how expensive your auto insurance will be is mostly determined by your driver profile and several other factors. If you avoid tickets and accidents, your rates will go down in all areas. You also avoid expensive repairs after an accident, which means more savings.
Do You Need Auto Insurance If You're A Responsible Driver?
Auto insurance is mandatory in nearly all states. So the question isn't whether you should purchase insurance, but where to get it from. Some people might question their need for collision or comprehensive insurance because they're a responsible driver. Unfortunately, you can't control everybody else on the road. So even if the accident is out of your control, you could end up bearing costly repairs on your own if you don't have enough insurance.
Insurance companies base your car insurance rate on several factors. Although there are certain prices for the basic coverage, how much you pay for your policy will be dependent on your driving history, the type of vehicle you drive, and other things. Some insurance companies even look at things like your credit score. They don't directly affect your risk profile, but insurance companies may see them as a sign of future issues.
If you're looking to save on auto insurance, enter your ZIP code above and compare at least three to four policies today!
Compare quotes from the top car insurance companies and save
Secured with SHA-256 Encryption
What Is Collision Coverage, and Why Does It Matter?
Collision coverage is an elective type of coverage that helps to cover damage done to your vehicle from a collision with another vehicle or object, such as when you have caused and are at fault for the accident and damage. If you look at the cost of repair, doing it on your own can quickly get out of hand. A repair shop may not even start your repairs until they have proof of insurance or other proof that you'll be able to pay for their services. A more expensive auto may also have more expensive parts even for small repairs.
If you have a specialty car like hybrid vehicles or electric vehicles, your electric car battery alone could be a major investment.
Although collision coverage is optional in regard to state mandates, there are some instances in which it is essential for you to have it on your policy.
If you happen to be leasing your vehicle, most financial institutions will mandate that you carry collision coverage, since it helps protect themselves and their asset. Collision coverage is usually required if you are making payments towards owning the vehicle as well.
With collision coverage, there is a deductible involved. You are accountable for the deductible amount before the insurance provider starts to cover the damages. You get to pick the amount of deductible that financially suits you best. So make sure you can afford it as it could delay your repairs if you can't. While they do not protect your car in all cases, modern safety systems may reduce your collision coverage rates by protecting you from injuries.
In general, most drivers choose a deductible amount of either $500 or $1,000.
Your policy rate will be inversely related to the deductible. If you pay more for the deductible, you will pay less for your premium.
Comprehensive Coverage
If your vehicle is damaged for reasons other than a collision, collision coverage will not cover the expenses, which is where comprehensive coverage comes in.
Comprehensive is another type of insurance that is optional in most cases but may be required if you do not own the car outright.
If you have comprehensive coverage, you will be covered for a multitude of things, including damage from:
Fire
A fallen tree
Wind
Floods
Vandalism
Comprehensive is also what will help replace your car if it is stolen.
As with collision coverage, there is a deductible that is applied to your comprehensive coverage. This deductible is separate from your collision deductible, and you can choose the same amount or a different one.
Both comprehensive and collision are great to have if you own a newer car.
Repairs will usually be quite pricey and, after you have met your deductible, your insurance company will pay for damages up to the value of your car. If your car has a low market value, these types of coverage may not be necessary.
Liability Coverage
Liability coverage may be one of the pricier types of car insurance, but it is required in most states. To keep costs down and prevent more lawsuits, many states have begun to set mandates for the minimum amount of insurance that each driver must carry.
If you're unsure if your state has requirements or would like to know what they are, your state department of insurance can aid you.
To find your state's insurance department contact information, you can search online or use this handy map supplied by the National Association of Insurance Commissioners.
The coverage for liability will help cover you if you are at fault for an accident.
There are two types of liability coverage — property damage and bodily injury — and states require you to carry both kinds.
Liability only covers the other party, so any damage caused to your vehicle or passengers will not be covered.
Compare Car Insurance Companies
Compare quotes from the top car insurance companies and save
Secured with SHA-256 Encryption
Property damage liability will cover damage to the vehicle of the other driver. Bodily injury liability will cover expenses related to injuries to the driver and passengers in the other car. There is no deductible associated with liability, but there are limits involved.
The limits on your policy refer to the maximum amount that your insurance company will pay. Anything above and beyond the limits stated will be your responsibility. You want to make sure that you carry high enough limits, so you are covered in most circumstances.
Along with naming the types of insurance that are necessary for you to own, each state has a minimum limit amount that you need to have. Some of these minimums are pretty low; you will more than likely have to pay for much of the damage out of pocket.
According to the Insurance Information Institute, you should carry at least $100,000 per person for bodily injury, with a minimum of $300,000 for each accident.
Compare quotes from the top car insurance companies and save
Secured with SHA-256 Encryption
Other Types of Auto Insurance Coverage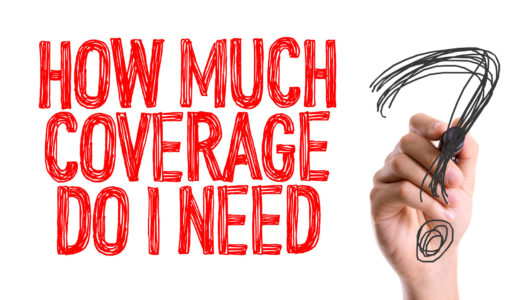 Although liability, comprehensive, and collision coverages are the most expensive, there are other types of insurance coverage that you should consider that are less costly.
Even though car insurance is required in most states, about one out of seven drivers somehow get by without purchasing insurance, according to this report from the Insurance Research Council.
As a result, it is recommended that you get insurance coverage to protect yourself from uninsured or underinsured motorists.
This insurance does not cost a lot, and it will cover damages to your vehicle or passengers if another person hits you and does not have enough insurance. Uninsured motorist will cover hit and runs as well.
In case you lack good medical insurance, you should consider getting coverage for injuries. In some states, this is called PIP, and in others, this is called medical payments, or med-pay.
How Car Insurance Rates Are Determined
Although the types of coverage that you have on your insurance policy are a significant factor in what you pay, there are other determinants just as important, such as:
Vehicle's Year and Make 

– 

Some vehicles are much more expensive to repair or replace, which will cause your insurance rates to be higher
Where You Live 

– 

Insurance rates can vary a lot according to which state you live in and even according to your specific zip code

Mileage and Parking

– 

How much you use your car and where you store it will affect your rates as well
Driving History 

– 

How good of a driver are you? Accidents and other traffic violations stay on your driving record for at least three years. The more you have, the higher your rates will be. New drivers, such as teenage drivers, will pay higher rates as well.
Credit History 

– 

Believe it or not, your credit history will also affect the amount of money that you will owe for the insurance policy. The higher your score, the less you will pay.
How to Keep Insurance Rates Low
You should do an evaluation of your auto insurance policy every year (about a month before it is up for renewal), especially if you have had changes in your life that may affect your current policy.
One thing you should do every year is check to see what your vehicle's current market worth is.
A car's current market value can be found from Kelly Blue Book. The value of your vehicle can change greatly from year to year, especially within the first few years of owning the vehicle. Compare its value to what your deductibles for collision and comprehensive are.
Once your vehicle's value gets close to the deductible amount, it often makes more sense to take collision coverage and comprehensive coverage off of your policy than to leave it on.
Because collision and comprehensive are two of the most expensive types of coverage, removing them from your policy will help you save quite a bit of cash.
If you still want to keep the coverages on your policy, one thing you may choose to do is decrease your deductible amount. Remember that this will cause your premiums to increase, so do some math to determine if it is the best way to go.
In the event you dropped a driver from your household such as a child who is now too old to be on your policy let your agent know, as this will lower your rate.
If you have bought a new house or have added another vehicle, you may be able to save money with a multi-policy or multi-vehicle discount. If you have purchased a new car, let your agent know if it has safety features or devices to help prevent theft.
Focusing on keeping your driving record clean will help you save money in the long run. If you have had a bad history of driving, you may be able to save money by taking a safe driving class.
Also, your rates will start dropping once your old violations are off of your record, as long as you don't have new ones.
Speak with your agent to see if there are any other discounts for which you are eligible, or if there are other recommendations for saving you money, such as shopping around for a different car insurance company.
If you want to save on auto insurance but still want the best coverage, enter your ZIP code below and start comparison shopping today!
Editorial Guidelines: We are a free online resource for anyone interested in learning more about auto insurance. Our goal is to be an objective, third-party resource for everything auto insurance related. We update our site regularly, and all content is reviewed by auto insurance experts.