The Geico Ringtone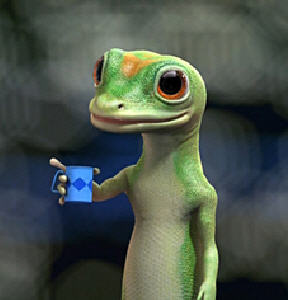 You know a car insurance company has embraced the power of the internet when they offer free ringtones online for an imaginary gecko.
GEICO is quite likely the most well known car insurance company in America (being owned by Warren Buffett doesn't hurt either) and the GEICO Gecko is one of the most successful advertising campaigns in history. At first it may seem like a natural thought to embrace consumers love of the green little character however large corporations are not often rewarded for being so hip.
Through the Myxer website GEICO has a wide variety of custom ringtones which can be downloaded to the phones of cellular customers with AT&T, T-Mobile, Verizon and other popular wireless carriers.
Geico also has a number of Gecko wallpapers available including many from the highly acclaimed "Well, Hello" campaign.
The slogan behind the GEICO ringtones campaign is "add a little Gecko to your phone℠" and it seems to be another smash hit for the GEICO car insurance company
Embracing social media is one of the key elements for building brand loyalty and lowering customer acquisition costs. Outside of the unique ringtones campaign GEICO also has a presence across all the major social media channels including Facebook, Twitter, YouTube and Filckr.
When it comes to embracing social media GEICO wins our award for "Most Connected Car Insurance Company" and we look forward to seeing more from the gecko in the future.
Now the question is … Where is the Caveman?
Is the lack of any Caveman ringtones an intentional omission?
Watch the commercials, maybe he got burned again 🙂