Does my car insurance cover me abroad?
If you plan on driving a vehicle overseas, your US car insurance won't cover you abroad. You will need an international driving permit and supplemental car insurance, even if you're driving into Mexico or Canada. You can usually purchase supplemental car insurance coverage from the rental car company. Learn more and compare rates below with our free tool.
Compare Car Insurance Companies
Secured with SHA-256 Encryption
UPDATED: Aug 12, 2021
It's all about you. We want to help you make the right car insurance coverage choices.
Advertiser Disclosure: We strive to help you make confident car insurance decisions. Comparison shopping should be easy. We are not affiliated with any one car insurance company and cannot guarantee quotes from any single company.
Our car insurance industry partnerships don't influence our content. Our opinions are our own. To compare quotes from many different car insurance companies please enter your ZIP code on this page to use the free quote tool. The more quotes you compare, the more chances to save.
Editorial Guidelines: We are a free online resource for anyone interested in learning more about auto insurance. Our goal is to be an objective, third-party resource for everything auto insurance related. We update our site regularly, and all content is reviewed by auto insurance experts.
Key takeaways...
In the United States, you're required to comply with state insurance laws when you own a vehicle
Car owners in most states must comply with mandatory auto insurance laws when they register a vehicle in their name
If you're planning on driving a vehicle overseas, your US auto insurance won't protect you while you're abroad
When you rent a car, make sure you have an International Driving Permit and supplemental car insurance coverage
If you drive into Canada, you will still have the coverage that you currently possess under your US policy
There's nothing like traveling abroad. When you step outside of familiar territory and into a foreign land, you can immerse yourself in new cultures surrounded by new sights that you could never see in the United States.
While it is scary to venture out abroad, it's an experience unlike any other.
Unfortunately, when you're traveling overseas you'll face different challenges that may call for a lot more planning. If you'd prefer to drive around so that you can experience as much as possible while you're abroad, you must be aware of the risks.
You can be more independent when you're a tourist who has access to a car but you might not be as protected as you'd initially think. Looking into travel insurance and travel insurance coverage could save you from suffering a headache during your well deserved vacation.
See how much you could save on auto insurance! Just enter your zip code above to compare insurance companies side-by-side!
Here's what you need to know about auto insurance while you're abroad:
Does your personal insurance cover you beyond state lines?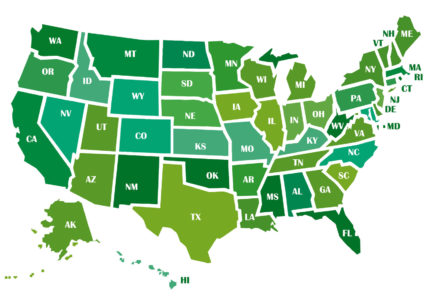 If you own a car, you probably are already familiar with the basics of buying personal car insurance. Auto insurance is often mandatory.
Whether or not you'll be required to purchase insurance depends on where you live and if you have a vehicle registered in your name. By law, you're mandated to buy a minimum amount of insurance in the state where the car is registered.
Insurance legally has to be purchased in the state where you're maintaining your registration or you'll be fined. Even though the insurance is written in a specific state under specific laws, the coverage will still remain in effect when you cross into new states.
Limits may change after crossing state lines if you carry basic coverage.
Compare quotes from the top car insurance companies and save
Secured with SHA-256 Encryption
Does personal car insurance cover you while traveling in the United States?
Compulsory insurance laws vary from state to state. Some states have higher liability requirements than others, but there's always some type requirement written into the vehicle code.
Your insurance might protect you from state to state, but it's not designed to provide you with international protection. You might need to look into travel insurance.
If you look over your personal auto policy contract, it will go into detail to describe where you're covered. All contracts that are issued in the United States will protect you while you're driving domestically.
It gets a bit more confusing when you're driving in different countries that border the US or have strong ties with the US.
Driving Your Car into Mexico and Canada
While driving your car in Mexico and Canada, you don't necessarily have to be crossing oceans to be traveling abroad. If you're going to travel south and visit Mexico in your car, you will only have insurance in the Free Trade Zone. The coverage that does extend will strictly be used to cover damage to your car.
If you need travel insurance or liability insurance, which you always should have, you have to buy Mexican coverage from a specialized provider. You can buy the coverage online or at the border before crossing over. Without the third-party coverage, you could be arrested for causing damages to others.
If you're going to go north instead of south, your existing insurance will offer you a lot more protection.
While you're in another country when you venture off into beautiful Canada, most insurance companies will extend your existing coverage even after you've driven across the border.
This extension is given because the neighbors to the north have very similar insurance laws and requirements. Ask your carrier for a certificate to show officials at the border. You should also always double check what comes with your travel insurance coverage.
Compare Car Insurance Companies
Compare quotes from the top car insurance companies and save
Secured with SHA-256 Encryption
What do you need in order to rent a car while traveling abroad?
If you're going to rent a car when you're traveling overseas, be prepared to satisfy the rental agency's requirements.
The first step will be to apply for your International Driving Permit before you leave the United States.
Once you possess this driving permit, you'll have the verification documents that you need to submit to the agency.
Once you have your IDP and you've verified the country that you're traveling to accepts it, you'll have to review the rental qualifications. In addition to getting your license, you'll have to ask about auto insurance.
The insurance that you have on your personal cars will usually extend to a rental but not when you're not located in the US.
Compare quotes from the top car insurance companies and save
Secured with SHA-256 Encryption
What type of car insurance can you buy from a rental agency?
There's always a way to get insured when you're eligible to rent a car. The option that makes the most sense when you're renting a car is to purchase the supplemental insurance offered at the counter.
In the United States, it's common to reject the offer, but don't do that while you're abroad. Here are the types of coverage you can buy:
Supplemental Liability Protection – will provide you with liability coverage to pay for third-party damage and medical bills when you're in an accident that you're at fault for
Collision Damage Waiver – pays for rental car repairs without a deductible when you damage the rental
Personal Accident Insurance – pays for your medical bills after an auto-related accident
Personal Effects Coverage – will help you pay to replace your belongings in the vehicle that are stolen or damaged in an accident
What is travel insurance and do you need it?
Travel insurance is not the same thing as rental car insurance. It is intended to cover you in scenarios that could happen when you travel, but not strictly scenarios that happen while you're driving. Some of the things that travel insurance provide include:
Trip cancellation
Trip interruption
Medical emergency
Medical transport
Funeral expenses
Lost baggage
Your car insurance won't help you pay for claims that you present while you're abroad. You can, however, purchase protection that will help you avoid having uninsured losses. Make sure that you price the cost of supplemental insurance before you book a rental. That way you won't be forced to do it last minute and face foreign transaction fees.
Price the cost of insurance online to get the quickest estimates. Enter your zip code right here to get started.